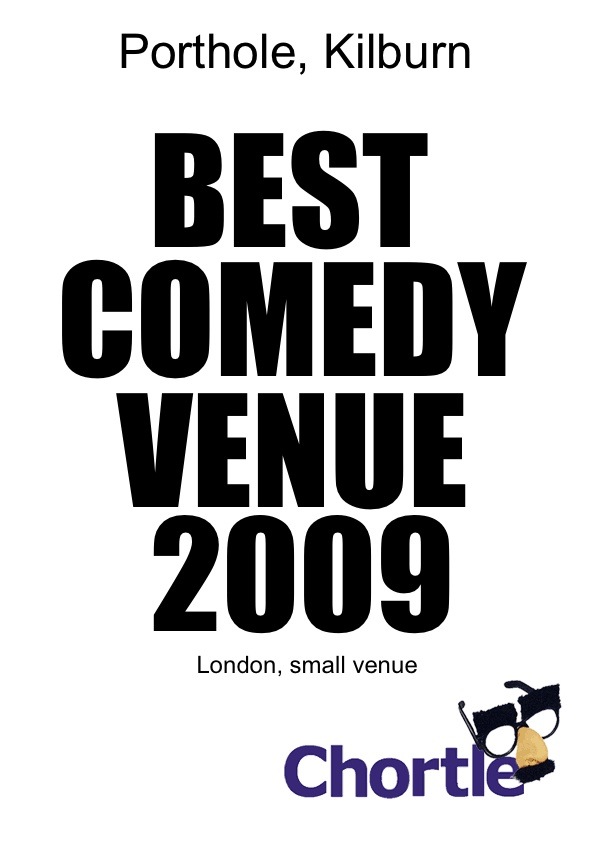 COMEDY
Join us every Monday from 8pm for the best in stand up comedy and at just £5 (or £4 in advance) entry fee there is not a better value night of Comedy to be had!
You can book tickets in advance here: WHAT'S ON PAGE, or just by scrolling down, finding the gig you want to come to and hitting 'CLICK HERE TO BUY TICKETS'.
and to keep updated on line-ups, special offers and ticket news follow us on Twitter @GoodShipComedy or LIKE our Facebook page!
Monday 10th March 2014
NICK REVELL
Starting out as a writer for topical shows like Weekending and The News Huddlines on BBC Radio and Not the Nine O'Clock News on BBC TV in the late 70s, Nick Revell began performing as a stand-up at the Comedy Store in 1980. Over the next twelve years he worked extensively on the expanding alternative comedy circuit and made many visits to the Edinburgh Fringe, including Brave New Comedy in 1984 (with Arnold Brown, Norman Lovett and Paul Merton) and was nominated for the Perrier Award for his solo show in 1987.
During this period he appeared on countless TV and Radio shows, including Friday Night Live, Live at Jongleurs, made two visits to the Just for Laughs Festival in Montreal, co-wrote and co-starred with Andy Hamilton in several series of the award-winning Million Pound Radio Show on BBC Radio 4, wrote and starred in two series of the Radio 4 sit-com The Nick Revell Show, and his own show Nick Revell, on BBC-1. Also panel shows such as Just A Minute, The News Quiz, Quote Unquote.
His TV and Radio credits as a writer include sitcoms, sketch shows and material for other comedians – Drop the Dead Donkey, Dressing for Breakfast, After You'd Gone, Dave Allen, Three of a Kind, Not the Nine O'Clock News, Alas Smith and Jones, Rory Bremner and Jasper Carrot, The Million Pound Radio Show, House of the Spirit Levels, Living with the Enemy, Weekending, The News Huddlines, The Unofficial Election 2005, with Andy Zaltzman and Jon Oliver, The Nick Revell Show, The Sunday Format to name but a few. Awards for the above include Perrier Nominee, BAFTAS, International Emmys, British Comedy Awards, Sony Radio Awards, Writers' Guild Awards, Silver Rose of Montreux.
For ten years from 1992 he stopped doing stand-up. During this period he performed two solo theatre shows, The Ghost of John Belushi Flushed My Toilet and Liberal Psychotic, which both transferred from successful runs at the Edinburgh Festival to Hampstead Theatre and then toured internationally. He continued to write extensively not only for TV and Radio but also two novels, House of the Spirit Levels and The Night of the Toxic Ostrich, and a stage play, Love and Other Fairy Tales which was highly successful with critics and audiences alike. He also presented Radio 4's literature programme Open Book. Since 2002 he has been back on the comedy circuit and continuing to entertain with his incisive and smart wit.
"The wonderful Nick Revell is a brilliant observer of contemporary idiocies and a shrewd commentator on society and the political scene. While he's got access to a vein of intoxicating anger, he's also a comedian who can transmit a huge amount of real human warmth. Expect to be seduced by a genuine craftsman"
The Guardian
"Revell's pedigree goes back to the Eighties, but his patter is as relevant today as it ever was." Evening Standard
LEE KERN
http://captainkern.tumblr.com/
Artist, film-maker and creator of C4′s Celebrity Bedlam, Lee's stand up is never anything less than quietly subversive and utterly hilarious. Smart, stupid and silly in equal measure, prepare to be seduced by his off-kilter view of the world.
"Kern dazzled." The Guardian
"Bonkers? Yes. But also rather brilliant." The Sun
JONNY & THE BAPTISTS
http://http://jonnyandthebaptists.co.uk/
"Musical comedy's rising stars" The Sunday Times Jonny & The Baptists are regulars on BBC Radio 4′s The Now Show, and featured on Infinite Monkey Cage, Sketchorama, Fresh From the Fringe (all BBC) and The Gadget Show (Channel 5).
"If you're looking for a fun time, the Baptists will deliver."
Steve Bennett, Chortle
JAMES LOVERIDGE
http://www.jamesloveridgecomedy.co.uk/
Drawing on the most embarrassing recesses of his own life James is a hilarious story teller who captivates and entertains audiences with his cheeky yet charming personality. Having performed all over the country as well in Sydney and the Edinburgh Comedy Festival, James has established himself as one to watch on the London comedy circuit.
"He had us in stitches throughout a polished yet ever-evolving act, with asides and quips just as strong his actual jokes." The Skinny
DALIA MALEK
An Egyptian-Californian who started comedy in London, Dalia has a unique brand of dark, irreverent humor that has helped her progress in comedy quickly. She had never performed before entering the Chortle Student Comedy Award 2012, but after only three months of doing comedy, she became a finalist.
"Made an instant impact…distinctive, knowing content. A very promising writer." Chortle
PLUS YOUR RESIDENT HOST:
BEN VAN DER VELDE
Amazingly just £5 entry (or £4 in advance online)
Monday 17th March 2014
THE ALTERNATIVE ALTERNATIVE COMEDY MEMORIAL SOCIETY
http://noblefailure.org/
Hosted by John-Luke Roberts and Thom Tuck. Line-up TBC
Amazingly just £5 entry (or £4 in advance online)
Monday 24th March 2014
STUART GOLDSMITH
Stuart sparkles with the effortless charisma and quick-fire timing he honed over a misspent youth as a street-performer. Nowadays he is internationally recognised for original, striking stand-up comedy and an innate ability to win over literally any crowd. As well as his breezy, yet sharp storytelling, Stuart has spent the past 18 months becoming the self-appointed Michael Parkinson of comedy as his Comedian's Comedian Podcast has gained a (pretty large) cult following and over half a million downloads!
"Expert stand-up."
The Sunday Times
"Sparky goings-on and charm to spare, as Stuart Goldsmith marries pitch-perfect audience repartee with cleverly woven tales of the everyday." The Independent "You were really funny!" Alice Cooper!
PAUL DUNCAN MCGARRITY
Archaeologist by day, comedian (and occasional crime-fighter) by night, Paul is a charming, eloquent and big-hearted storyteller, whose tales of awkwardness at school, on worksites and when eyeball-to-eyeball with a Ugandan rebel leader have left audiences in delighted bit and pieces the nation over. He is also co-presenter on 'The Tangentlemen' podcast along with our resident host Ben.
"Like a very tall, funny, excited child." The Scotsman
"Practically bursting with energy… a hard act to follow." Three Weeks
ANDREW BIRD
http://www.andrewbirdcomedian.com/
Andrew hails from Northamptonshire and moved to London to pursue a career in stand-up.
He worked in a bar where he practised making the regulars laugh before his career in live comedy took off. Since then, Andrew has become a top headline act up and down the UK as well as performing around the world from Dublin to Doha. He has also supported Rhod Gilbert and Lee Hurst on tour, and
been the warm-up artist for TV shows including Nevermind The Buzzcocks, Room 101 and Pointless. Andrew is also a writer in demand having written for series such as 8 Out Of 10 Cats and Mock The Week.
"A great storyteller. Funny, likeable and effortless."Time Out
"Funny as hell." Rhod Gilbert
MAT EWINS
Matt is an absolute original, whether performing dressed as Henry VIII, but with Bernard Manning's voice or performing entire plays for a month by himself because 'the rest of the cast are dead' he takes comedy to new and bizarre places that no other comic would think are on the map.
""Sets the bar high for a relatively new act, with a fluid gag driven set, delivered with astute timing." Chortle
DEREK RYAN
Freshly arrived from the Irish circuit, Derek is part stand-up, part sketch comedian, part story-teller and logically unhinged. But he's not messed-up, he's eclectic, okay? His meandering mind works in pictures, drawn in the air with wily phrases & flailing limbs. Random everyday observations with little regard for the laws of nature or the fact that he can't actually talk to animals.
"Gorgeously Talented." The Kilkenny People
PLUS YOUR RESIDENT HOST:
BEN VAN DER VELDE
Amazingly just £5 entry (or £4 in advance online)
Monday 31st March 2014
ANDY ZALTZMAN
http://www.andyzaltzman.co.uk/
If such a title as Satirist-in-Chief or Royal Purveyor of Anti-Establishment Bullshit existed (and wasn't contradictory) then Andy Zaltzman would deservedly hold it for life. For the past five years, along with 'The Daily Show's' John Oliver, Andy has hosted 'The Bugle' podcast, simply the finest example of its kind and with a loyal following of thousands upon thousands of listeners who greedily hoover up Zaltzman's wonderfully ornate wordplay and imagery. Just don't get him started on a pun run or we'll never leave the venue!
Andy is a prolific writer and presenter, having contributed to 'Bremnder, Bird and Fortune' and '7 Day Sunday' with Al Murray, as well as hosting various cricket podcasts.
"Andy Zaltzman is producing some of the most interesting and intelligent stand-up around.
Chortle
"One hand on the political pulse and the other jagging viciously at the comedy jugular, where insight takes second place to a tightly scripted succession of devastating punchlines blended with a winning anarchic energy." The List
ANGELA BARNES
Angela is a comedians you can rely on for big sisterly honesty and advice, plus a welter of belly laughs. Since she started comedy in 2010 she has won the BBC NEW COMEDY AWARD, appeared on RUSSELL HOWARD'S GOOD NEWS and been a regulart on Channel 4′s STAND-UP FOR THE WEEK. We're delighted to have her open at the Good Ship and bring her charm and filth to our stage in equal measure.
Hers is a world-weary and devestatingly matter-of-fact outlook on the world that really makes her stand out. The Guardian
"A beautifully paced performance that was aided by the consistent quality of her jokes, many of which showed a great skill with self-deprecation." Chortle
MIKE WOZNIAK
http://www.mrmikewozniak.com/mrmikewozniak/Mr_Mike_Wozniak_-_Comedian.html
Moustachioued and mesmeric, Mike Wozniak has a natural knack for the odder nooks and crannies of comedy that have garnered him nominations for both Best Newcomer and Best Show at the Edinburgh Comedy Festival in recent years.
"His crisply worded patter has an end-of-the-pier flavour but there's enough foible-laden personality, in the endearing mould of Basil Fawlty, to draw in you into his crazed world and offset the bile with warmth." The Telegraph
And also introducing…JAMES BRANN
PLUS YOUR RESIDENT HOST:
BEN VAN DER VELDE
Amazingly just £5 entry (or £4 in advance online)
Monday 7th April 2014
DAMIAN CLARK
Aussie boy Damian Clark kicked off his comedy career when winning the Perth Comedy Fringe Award in 2000 and hasn't stopped since.
His first solo show The Bandit was a recipient of the Melbourne International Comedy Festival Moosehead Award which lead to touring all over Oz in the MICF Road Show. After acclaimed TV performances on comedy talkshow ROVE LIVE, ABC's STAND-UP! and created & starred in The Comedy Channel's – DAMO DOES EDINBURGH, Damo left the sunny shores of down under.
Damian moved to Ireland in 2005 and within weeks was hailed 'The Number 1 event to see' and 'Cream of the crop' (InDublin Magazine). Soon after arriving Clark became a regular feature in RTE's IFTA Award-winning REPUBLIC OF TELLY, comedy panelist in 3 series of TV3's THE APPRENTICE: YOU'RE FIRED! plus alongside fellow comic Andrew Stanley wrote & starred in their own series I DARE YA! which became the highest rating Irish comedy debut to date.
Recently based in London, Damo's rambunctious and uplifting stand up continues to tour clubs & festivals all over the UK, Ireland, Europe and beyond. Now is the time to catch this raw talent as he stands on the cusp of super stardom.
"Hilariously surreal…well-wrought set delivered with brio and huge charm…Amazing."
The Scotsman
"There is barely a bad word to say about Clark: distinctive and possessing a comic talent beyond his years, both biological and mental." Chortle
IVO GRAHAM
At just twenty-three years old, Ivo Graham's gauche charm belies a talent rarely seen in someone so young. The Eton alumnus combines insightful stories of adolescence with a sharp witted presence that has rapidly gained him the acclaim of his audience, fellow artists and the critics alike. After a sell-out debut run at the Edinburgh Festival this summer Graham will be performing his show all over the UK.
In his first year of performing Ivo was awarded the acclaimed So You Think You're Funny New Act Competition at the 2009 Edinburgh Fringe and was nominated for Best Newcomer at the Chortle Awards. While still at university in Oxford he began doing professional gigs around the country and also performed abroad at the Montreal Just For Laughs Festival and the Hollywood Fringe. Since graduating in 2012, Ivo's has been in constant demand in clubs and theatres all over the UK circuit culminating in his critically acclaimed debut show
"A very convincing set from this erudite comedian" **** The Independent
"Beautifully constructed comedy" The Scotsman
CHRIS MARTIN
http://www.chrismartincomedy.co.uk/
One of the finest young observational comics on the circuit, Chris has the laser-guided ability to find the funny in the minutiae of modern life. His masterful dissection of human foibles have led him to support heavyweights such as Russell Kane, Jack Whitehall and Milton Jones on tour.
Destined for greatness. The Sunday Times
INGRID DAHLE
Ingrid moved to the UK from Norway in 2002. She performed her first comedy gig in July 2011 and 30 gigs later won a coveted place in the final of the prestigious So You Think You're Funny competition at the Gilded Balloon. Her set at the final was selected to appear on the Culture Show's coverage of the Edinburgh Festival for BBC2.
In October 2012 Ingrid also competed in the final of the inaugural Squawker Awards at the Brighton Comedy Festival. She delivered a blistering set during the fiercely contested competition and was deservedly announced the Winner. The winner's prize included a spot at the Best of the Fest show at the Brighton Dome. Despite her newcomer status, Ingrid's confident performance received rapturous applause from the 1400 strong crowd.
"Always quirky, an engaging oddball with innate funny-bones."
Chortle
RICHARD TODD
http://www.richardtoddcomedy.com/
If you want a six-legged comedy horse to back as a future star, then look no further than Richard Todd. Winner of the Amused Moose Laugh Off 2012 and runner-up Leicester Square Theatre New Comedian of the Year 2011 he has been in huge demand up and down the country thanks to his one-in-a-million originality. Plus he's an incredible cartoonifist.
"An inventive comic thinker, with surrealism that creates weird imagery with robust, if unlikely, internal logic. He delivers with the passion of an insane preacher, and there's a keen off-the-wall wit throughout." Chortle
PLUS YOUR RESIDENT HOST:
BEN VAN DER VELDE
Amazingly just £5 entry (or £4 in advance online)
Monday 14th April 2014
TOM PRICE
Dr.Who fans gird your loins as the star of 'Torchwood' brings his own warm brand of storytelling to The Good Ship. Deft, daft and always with a belting punchline just a few seconds away, Tom Price is a talented actor and stand-up who can be relied upon to entertain every time.
AISLING BEA
One of the breakout stars of the 2013 Edinburgh Festival Aisling Bea is on a one-way journey to super-stardom, mark our words. Happily, she's decided to make a stop off with us on the way. Always frank and inventive, watching Aisling is like watching your best friend's big sister hold court when she's had one too many shandies and has some naughty stories to tell.
"A masterclass in high-impact entertainment." Evening Standard
"The opinions and convictions Bea smuggles into her set […] suggest a comic who'll have meaningful things to say once she's proven, to everyone's satisfaction, that she's got being funny in the bag. On which point: job done."
The Guardian
BARRY FERNS
Barry Ferns has been writing and performing comedy since he was 17 years old. At that tender age won the Glastonbury Festival Comedy competition and reached the semi final of "So you think you're funny".
He was described by Bristol's "Venue Magazine" as "sickeningly talented" and by Matt Lucas as "One of the best new acts I have ever seen".
He promptly gave up stand-up for 15 years
(To pursue Sketch Comedy)
As a writer of Sketch Comedy he wrote for BBC Radio 1, BBC Radio 4 and for E4. In March 2008 he began Writing, Producing and Directing a series of 12 short comedy films which were completed in September 2011. (www.whatareyoudoingthistome.co.uk) He finally started stand-up again in September 2010 (he made a few attempts in 2008 as well, but they lacked conviction). He now runs Angel Comedy – A Comedy Club in Islington that runs 7 nights a week, and performs up and down the country at various other events.
In 2013 he won the Malcom Hardee Award at the Edinburgh Festival
"Surreal Genius" **** The Metro
"So funny someone should call a paramedic." The Guardian
STELLA GRAHAM
http://www.stellagraham.com/
Stella Graham is a naturally funny stand-up comedian and writer, with great gags and killer banter.
Ballsy, intelligent and inappropriate, without the bullshit.
Charming, and unladylike, all punchlines connect with a resounding thud.
She's the funniest half Sri Lankan lass from Coventry.
"Fun and original… everything a good comedian should be: self-assured,
likeable and, crucially, funny." Broadway Baby

PLUS YOUR HOSTS:
JONNY & THE BAPTISTS
http://http://jonnyandthebaptists.co.uk/
"Musical comedy's rising stars" The Sunday Times Jonny & The Baptists are regulars on BBC Radio 4′s The Now Show, and featured on Infinite Monkey Cage, Sketchorama, Fresh From the Fringe (all BBC) and The Gadget Show (Channel 5).
"If you're looking for a fun time, the Baptists will deliver."
Steve Bennett, Chortle
Amazingly just £5 entry (or £4 in advance online)
Monday 21st April 2014
THE ALTERNATIVE ALTERNATIVE COMEDY MEMORIAL SOCIETY
http://noblefailure.org/
Hosted by John-Luke Roberts and Thom Tuck. Line-up TBC
Amazingly just £5 entry (or £4 in advance online)
Monday 28th April 2014
PAUL MCCAFFREY
Paul McCaffrey has quickly established himself as one of the most exciting new acts around, winning both The London Paper and the Latitude Festival new act competitions in 2009. In 2011 Paul took his debut solo stand-up show, 'Saying Something Stupid' to the Underbelly, to great critical acclaim, having previously appeared as part of the Big Value Comedy Show and the AAA Stand-Up Show at The Pleasance.
Paul has been heard on Russell Kane's Whistle-Stop Tour (BBC Radio 2) and is a regular guest on The Matt Forde Show (talkSPORT). He recently filmed the stand-up spot on Russell Howard's Good News (BBC3) and is currently involved in a new series of the popular BBC3 show 'Impractical Jokers'.
"A brilliantly entertaining hour full of laughs, beautifully delivered by an act who should be destined to headline the main stage."
Chortle
"He has charm, charisma and success written all over him."
Bruce Dessau, Evening Standard
"Obviously born to be a comic."
Jay Richardson, Scotsman
LUKE BENSON
Luke is a Giant, a man & stand-up comedian/low-level sportscaster. He has been at the Comedy since 2007 & been in the finals of many competitions of which he has won not one, which is FINE. It's the taking part that's important, isn't it? ISN'T IT? More than medals, trophies, far higher remuneration & proper accreditation in this meritocracy we live, it's the taking part.
He has gigged all over the shop, if by "shop" he means "planet", including Bahrain, Scandinavia, The Balkans (Slovenia, Croatia, Hungary) & the mighty Belfast. Crowds all round the globe (well, back in the UK and those six other places) have all been bewitched by this Asgardian's verbal pyrotechnics and inventive gagsmithery.
"A quirky observational set that earns him lots of applause…He looks the part, he's got the talent, and it's easy to imagine him on the telly." Sunday Times
"One of the most instantly likeable personalities on the line-up. His punch-lines hit the targets… even more impressive was how he found a clear voice whatever style or subject of comedy he tackled." The Stage
TIM RENKOW
Winner of the 2013 Leicester Square Comedian of the Year and a Chortle Student Finalist, American Tim Renkow has a case to be the most striking and original new voice on the circuit. Tim has cerebral palsy and plays with audience's expectations and misconceptions around that condition to great effect. No kid gloves are needed here as his joke-telling packs a hefty punch to the gut.
"A funny writer of strong, proper gags…excellent, unique stuff." Chortle
DAVID MILLS
Winner of the acclaimed New Act of the Year, David is a star of the cabaret scene and making waves on the stand-up circuit too. Confessional, bitchy and a master raconteur, David will have you eating out of his hand as if you were a thoroughbred stallion and he had nothing but tasty sugar cubes.
"David Mills is heading for the big time. Most definitely one to watch." Time Out
"Sharply funny and genuinely perceptive." Fest
PLUS YOUR RESIDENT HOST:
Ben Van der Velde
Small, hairy, opinionated, enthusiastic, friendly, Madagascan and daft. 85.7% of these adjectives can be applied to your host Whether compering the comedy stage at Bestival, gigging at one of the nation's favourite comedy clubs or just displaying his trademark total lack of hand-to-eye co-ordination, Ben is an ever-popular and quick-witted ringmaster.
Amazingly just £5 entry (or £4 in advance online)
Doors 6pm for 8pm start.
Monday 5th May 2014
TOM ALLEN
In 2005 Tom Allen won the competition So You Think You're Funny in Edinburgh and went on to win the BBC New Comedy Award later that same year.
Since then he has performed at Montreal festival Just For Laughs, on tour in the US with Eugene Mirman and Reggie Watts and in the last two years has made his debut at Sydney, Adelaide and Melbourne Comedy Festivals. He has also performed his own show at the Edinburgh Festival for the past six years.
Last year he began a new live chat show incorporating stand up and parlour games with interviews from Margaret Cho, Sarah Millican, Ed Byrne, Mark Gatiss, Jack Whitehall, Amy Lamé and Dr Who himself, Matt Smith. Performed at the Udderbelly and London's Comedy Café, Tom Allen's Society is now a podcast available on iTunes.
As a presenter, this year has seen him host World's Greatest Bodyshockers on E4. He has also reported for BBC2's The Review Show, Big Brother's Big Mouth and covered the British Fashion Awards for Net-A-Porter where he interviewed Christopher Kane, Olivia Palermo and Victoria Beckham. He wrote and performed Dictionary Corner for Channel 4's late night satirical TNT Show and has made his own documentary 'Who Is Tom Allen?' where he was regressed to his previous life (a secretary in 1970s California) and was featured in the BBC documentary about legendary stand up show, Late and Live.
As an actor he guest starred in the most recent series of Comedy Central's Threesome and has also appeared in BBC's Sensitive Skin and Fear of Fanny. Film includes Colour Me Kubrick with John Malkovich, Starter for Ten with James McEvoy and the Stephen Frears film, Tamara Drewe. Tom plays Pip in the Sony Award winning Bleak Expectations, he has recorded two series of The Correspondent which he co-writes and performs for Radio 4 and several audio episodes of the Dr Who Companion Chronicles playing Oliver Harper. He recently made his first appearance on the News Quiz.
He grew up in Bromley. As a teenager he was the youngest member of the Noel Coward Society.
He responds well to strong women and deadlines.
"Tom Allen, a great storyteller whose ability to provide riotous entertainment deserves to net him a wider audience…his live work sees him telling outlandish tales from his seemingly very eventful life. Allen is one of life's true eccentrics, a being who exists at an angle to the rest of us." The Guardian
"One of the funniest acts on the circuit…he has continued to storm every gig he does."
GQ Magazine
WILL DUGGAN
After just 3 short years on the comedy circuit, Will's a name to watch. With cracking one-liners, haplessly daft stories and a burning eloquence, Will's one of the most exciting acts to come out of the north-west circuit.
"absorbs you so completely you don't see the payoff coming." Chortle
CARIAD LLOYD
Since being nominated for Best Newcomer at the Fosters Edinburgh Comedy Awards n 2011 for her debut solo show, Lady Cariad's Characters, she has become one of the freshest and best-loved character comics on the circuit.
She filmed a pilot of her characters for BBC 3, The Cariad Show available now on iPlayer & can soon be seen in Sky Living's new sitcom Give Out Girls and BBC3′s Crims. She has also appeared in award winning E4 sketch show Cardinal Burns, CBBC's Bafta-nominated DNN and a variety of BBC 3 online sketches.
For Radio 4, she has featured in Newsjack, The Guns of Adam Riches, Here Be Dragons & The Now Show.
Cariad regularly performs on the comedy circuit with her silly characters and is also a member of Austentatious: The Improvised Jane Austen Novel, who have had two sell-out Edinburgh Festivals, were Chortle nominated for best sketch act, & in 2014 will tour the UK. She also performs with veteran impro troupe Grand Theft Impro and in two-prov show Cariad&Paul: A two player improvised adventure.
She also teaches improv & has performed in Canada, Europe and at acclaimed improv theatres The UCB and The PIT in New York.
"The performance is priceless." ★★★★ The Guardian
"This is one of the most impressive comedy shows on the Fringe. Camp out early" ★★★★★ – Chortle
JIMMY BIRD
Winner of the acclaimed Laughing Boy New Act Competition, Jimmy is a warm and popular gagsmith, who is never far away from a winning and unexpected punchline.
"a near bullet-proof set." Chortle
MARY BOURKE
"Bourke's utterly composed on stage, performing with a relaxed delivery, and the soft sing-song of her Irish lilt contrasts nicely with her punchy and somewhat acerbic material." Chortle
PLUS YOUR RESIDENT HOST:
Ben Van der Velde
Small, hairy, opinionated, enthusiastic, friendly, Madagascan and daft. 85.7% of these adjectives can be applied to your host Whether compering the comedy stage at Bestival, gigging at one of the nation's favourite comedy clubs or just displaying his trademark total lack of hand-to-eye co-ordination, Ben is an ever-popular and quick-witted ringmaster.
Amazingly just £5 entry (or £4 in advance online)
Doors 6pm for 8pm start.
Monday 12th May 2014
LORETTA MAINE
Loretta's songs of anger, heartbreak, alcoholism and violent reactions to emotional heartbreaks have had audiences laughing, crying and toe-tapping for five years, since she was nominated for Best Newcomer at the 2008 Edinburgh Festival.
Since then she has been the veritable troubadour of misery, taking her bluesy growl and lovelorn guitar to festivals around the world and onto BBC3′s Live at the Electric. Strap yourselves in for a set of musical and comedy brilliance in her (possibly blood-stained) hands.
"Like Dolly Parton seen through the lens of Mike Leigh…she performs brilliantly observed songs about love, loss and violent revenge." Guardian
"Fabulously talented. Her brilliantly realized comedy shows maturity well beyond her years. Her psychotic yet sexy American singer is a thing of hysterical beauty."Time Out
BEC HILL
http://www.bechillcomedian.com/
Bec Hill possesses a refreshing blend of charm, whimsy and infectious enthusiasm, which has gained a cult-following in Australia and the UK. But what makes her unique is her skilful ability to bring her "arts and craft" imagination to life on stage.
At the tender age of 19, Hill burst onto the Australian stand up scene reaching the National Final of the Raw Comedy Competition. A writer from The Age singled her out in a review of the Final by boldly predicting, "…if I had to name one who is likely to find fame and fortune, it's South Australia's Bec Hill."
Her debut solo show in the 2008 Melbourne International Comedy Festival, If You Can Read This my Cape Fell Off, taught audiences how to achieve super heroism. The multi-media comedy lecture was nominated for a Critic's Choice Award and gathered a plethora of positive reviews. This early praise secured an offer from the Gilded Balloon to co-produce her show at the formidable Edinburgh Fringe in 2009, where it gained 4 star reviews.
During this time, Bec was also chosen to co- present Balloon TV with Stephen K Amos, which led to a residency as Compère for Paramount Comedy on Tap. Since then Bec has settled in the UK and established herself as a favourite act both on the live circuit and at festivals. Bec has also proved a smash hit on YouTube, gaining global acclaim thanks to her "hand-made" website and viral shorts. Her bi-monthly pun-based comedy night, Pun Run, has already become a sought-after gig for seasoned
comics, as well as a hot ticket for punters quick enough to buy them before it sells out.
"This is a hugely enjoyable show and it's a performance with enough pizazz and confidence to suggest that Bec Hill is an act to watch out for." **** Chortle
"There is more than enough brilliant observational material here to persuade audiences that they spent their ticket money wisely." The Stage
TOMMY ROWSON
Tommy started performing stand up late in 2010. Six months later he was a finalist in the 2011 Laughing Horse New Act competition and he won So You Think You're Funny later that year. In 2012 he performed as part of the AAA late night show at the Edinburgh Fringe and was a finalist in BBC Radio 2′s New Comedy Award.
Tommy wrote, directed and acted in the award-winning short film Arrowman Sam, for which he was Cinemagic's Young Filmmaker of the Year and was shortlisted for Broadcast Young Talent's Young Writer of the Year award. Since then he has written for Baby Cow Productions, World Productions, and BBC Comedy.
"A distinctive voice. This Welsh weirdo creates a quirky, oddball world – but one with which the rest of us can still easily identify. The anecdotes are full of detailed aside and delivery with perfectly-judged timing." Chortle
ALEX SMITH
Alex's trademark mix of laser sharp stand-up observations and cleverly crafted comedy songs have helped him rapidly emerge as one the most exciting new acts on the circuit. In just two years he has appeared on BBC Radio 2's New Comedy Awards and secured two guest slots on BBC3's prestigious new talent showcase, Live At The Electric hosted by Russell Kane.
AND A VERY SPECIAL, 'WELL GOOD' GUEST…
PLUS YOUR RESIDENT HOST:
Ben Van der Velde
Small, hairy, opinionated, enthusiastic, friendly, Madagascan and daft. 85.7% of these adjectives can be applied to your host Whether compering the comedy stage at Bestival, gigging at one of the nation's favourite comedy clubs or just displaying his trademark total lack of hand-to-eye co-ordination, Ben is an ever-popular and quick-witted ringmaster.
Amazingly just £5 entry (or £4 in advance online)
Doors 6pm for 8pm start.
Monday 19th May 2014
CELIA PACQUOLA
http://lu2664.wix.com/celiapacquola
Celia Pacquola began her stand up career in 2006 and quickly cemented her place as an award winning and internationally recognised comedian with regular 4 star reviews, awards, nominations for her shows at comedy festivals across the world.
She is a master at bringing an audience into her own charmingly skewwhiff world of gentle social awkwardness and taking on the world in the most playful way possible. She has been described as being "Adam Hills with ovaries" and we can't think of a better way to hit the nail on the head, as she mines a similar seam of good-natured anecdotes with a warm, but never saccharine, heart. If there's any justice in the world she'll go suitably nuclear, like her Aussie counterpart has, soon.
She is also an in demand guest on panel and chat shows, with appearances on The Project, Chelsea Lately (USA), Never Mind The Buzzcocks (UK), Rove, Spicks and Specks, The Rob Brydon Show (UK), Adam Hills In Gordon St Tonight, Have You Been Paying Attention?, Tractor Monkeys, Dirty Laundry and many more.
"Celia Pacquola uses her magnetic charisma to draw audiences in to a warmly uplifting show that's as inspiring as it is hilarious. I'd defy anyone not to leave… just a little more in love with life – and with her – than before" Chortle
"Endlessly charming, furiously honest and beautifully written stand up."The Independent
PETE OTWAY
Mixing a razor sharp wit with an affable charm and creative writing, Pete Otway quickly established himself on the circuit as a natural and original comedian.
After making it to the finals of the BBC New Comedy Award in 2012, he was chosen to perform at the Edinburgh Fringe as part of Just The Tonic's prestigious Big Value Showcase. Whilst regularly appearing at some of the biggest comedy clubs and nights across the UK, both as an MC and an act, Pete has also performed at festivals including the Isle of Wight, gigged all over Europe and provided tour support for Doc Brown.
"Devastatingly funny." Chortle
"Amiable, cheeky classic stand-up." Liverpool Echo
MARK SILCOX
A finalist in both the BBC New Act of the Year and prestigious Leicester Mercury Comedian of the Year, Mark is a delicate, deft and disarming oddity whose set is packed full of unexpected punchlines and hilarious deadpan.
"an intriguing and amusing presence." Chortle
RICHARD SOAMES
Richard Soames is an actor, writer, comedian and improviser in critically acclaimed sketch group The Beta Males, who were nominated for Best Sketch or Character Act at the Chortle Awards 2012. The Betas have just completed their third sell out, 5 star Edinburgh run The Space Race. Richard has also studied Chicago-style long-form improv under Second City alumnus David Shore, is a main UK cast member of the multi-award winning improv show Monkey Toast and guests on Chortle award nominated smash Austentatious and Grand Theft Impro.
"A slick, hilarious sketch show… Genius." The Sunday Times
"Highly inventive… one of the most exciting, gloriously funny acts out there." Time Out
PLUS YOUR RESIDENT HOST:
Ben Van der Velde
Small, hairy, opinionated, enthusiastic, friendly, Madagascan and daft. 85.7% of these adjectives can be applied to your host Whether compering the comedy stage at Bestival, gigging at one of the nation's favourite comedy clubs or just displaying his trademark total lack of hand-to-eye co-ordination, Ben is an ever-popular and quick-witted ringmaster.
Amazingly just £5 entry (or £4 in advance online)
Doors 6pm for 8pm start.
Monday 26th May 2014
SUPER-SPECIAL MEGA TV HEADLINER…BOOK NOW TO AVOID DISAPPOINTMENT
We're lucky enough to have secured an absolute top-hole, gold-plated, diamond-encrusted superstar of a headliner before he heads off on a huge UK tour. We're under strict instructions not to reveal their identity, but we assure you this is not an act to miss. See if you can guess the identity from their reviews…
"An hour of comedy that can't fail to delight." **** Metro
"He had the crowd roaring!" The Hollywood Reporter
"One of the funniest comics on the circuit." Time Out
MATT REES
Multi-award winning comedian and Chortle Best Newcomer nominee 2012 Matt Rees has generated a huge buzz on the circuit over the past year with his unique brand of well-crafted gags and acerbic delivery earning him high praise from audiences and critics alike. The young Welshman recently supported the sublime Elis James on tour and can be seen performing as part of the prestigious Pleasance Reserve at the Edinburgh Fringe 2012.
"His is a distinctive voice, and a funny one, and he delivered one of the stand-out sets of the night, despite his relative inexperience. Chortle
JOHN HASTINGS
http://www.johnhastingscomedy.com/
John has been performing stand-up since 2006, and having worked all over his native country Canada decided a change of pace was needed. With this, he set out for the UK. John has been living and performing in the UK since July 2012 which began with the debut of his first solo show John Hastings: UnRelentless at the Edinburgh Fringe. Since then he has been going from strength to strength entertaining audiences across the country engaging them with his sharp punchlines delivered through his observational storytelling style. John was featured in The Comedy Reserve at this year's Edinburgh Fringe.
In 2010 he won the Best Newcomer Award at the Just for Laughs Festival in Montreal. He has been nominated for a Canadian Comedy award in the category of Best Newcomer and was named one of the five 'comedians to watch' by the Canadian Comedy Network. He was the youngest featured performer at the 2011 Winnipeg Comedy Festival and in the United States he was the youngest and only Canadian finalist of the 2011 San Francisco International Comedy Festival. His stand‐up comedy special was chosen to be the last special to be shown on the 15 series run of Canada's only stand‐up comedy showcase series Comedy Now. The Canadian Organization of Campus Activities voted John as the 'Comedian of the Year' in 2012.
"A strong calling card from a thoughtful and observant comic with enjoyably wry sensibilities…we're in the hands of an appealing consummate pro." Chortle
EAN LUCKHURST
Performing comedy since 2010 and playing at some of the best comedy clubs in the UK like Up the Creek and the world famous Comedy Store in Leicester Square, Ean's material revolves around his everyday life, especially his lovable, yet not that bright, dog Baxter.
He has reached the final of the BBC 2 New Comedian of the Year 2013 and has been entertaining audiences all around the country.
ADAM RUSHTON
Having previously served 5 years in The Royal Navy, Adam started stand up comedy in November 2010. Within his first 2 years Adam racked up 350 plus gigs performing all over the UK from Edinburgh to Exeter. Sharing the stage with some of the biggest names on the circuit Adam quickly established himself as a solid up & coming act and a very promising MC. His set consists of stories & cheeky anecdotes about his time in the Military.
PLUS YOUR RESIDENT HOST:
Ben Van der Velde
Small, hairy, opinionated, enthusiastic, friendly, Madagascan and daft. 85.7% of these adjectives can be applied to your host Whether compering the comedy stage at Bestival, gigging at one of the nation's favourite comedy clubs or just displaying his trademark total lack of hand-to-eye co-ordination, Ben is an ever-popular and quick-witted ringmaster.
Amazingly just £5 entry (or £4 in advance online)
Doors 6pm for 8pm start.
HISTORY & INFORMATION The award winning The Good Ship Comedy Club is set in the heart of Kilburn. It's not only become the go-to venue for comedy for the locals of Kilburn, Queens Park, Maida Vale, Willesden and Cricklewood but its amazing line ups also draw in the crowds from much further afield as audiences come to see some of the top national and international acts the comedy circuit has to offer.
  From hot new 'up and comers' to the familiar faces of the televisions biggest comedy shows The Good Ship Comedy Club has seen the who's who of comedy come and play this wonderful north west London venue. Special guest have previously included Omid Djalili, Reg D Hunter, Richard Herring, Josie Long, Simon Munnery, Stewart Lee and many many more!
2008……
A&B Aaron Counter Adam Bloom Adam Tempest Alfie Brown Amadeus Martin Andi Osho Andrew Lawrence Andrew O'Neill Andrew Watts Andy Zaltzman Asli Akbay Ben Van Der Velde Benny Boot Brett Goldstein Broderick Chow Carl Donnelly Charlie Baker Chris Martin Chris Mayo Christina Martin Claire Stroud Colin Owen Craig Campbell Dan Antopolski Dan Evans Dan Thompson Darshan Sanghrajka David Meech David Whitney Del Strain Dizzy Bryan Donald Mack Duncan Bolt Dylan Bray Erich McElroy Gareth Beliner Gary Colman Gary Delaney Gerry Howell Grainne Maguire Hal Cruttenden Hannah Dunleavy Helen Arney Henning Wehn Hils Barker Holly Burn Holly Walsh Iain Lee Ian Cognito Ilan Elson Schwab Imran Yusef James Mullinger James Sherwood Jane Bostock Jane Hill Janey Godley Jarred Christmas Jason John Whitehead Jason Rouse Jessica Fostekew Jim Grant Jimmy McGhie Jo Caufield Jo Romero Jody Kamali Joe Bor Joe Wilkinson Joey Page Jon Richardson Jonathan Elston Josh Howie Juliet Meyers Kate Smurthwaite Kevin Precious Kevin Shepherd Lee 'Nelsy' Nelson Lewis Shaeffer Lou Sanders Lucy Porter Luke Toulson Mark Allen Mark Restuccia Martin Davies Matt Crosby Matt Green Matt Kirshen Matthew Earley Matthew Osbourne Maureen Younger Meryl O'Rourke Michael Fabbri Michael Legge Mike Belgrave Mike Manera Mike O'Donovan Milton Jones Nat Luurtsema Nathan Caton Nick Cowen Nick Doody Nick Page Nick Pettigrew Norman Lovett Paddy Lennox Pat Burtscher Patrick Monahan Paul F Taylor Paul Harry Alan Paul Ricketts Paul T Eyres Pippa Evans Prince Abdi Rachel Anderson Reginald D Hunter Richard Coughlan Richard Herring Richard Sandler Rob Coleman Rob Deering Robin Ince Roddy Fraser Ronnie Rigsby Rosie Wilby Ross Ashcroft Sajeela Kershi Sara Pascoe Scott Capurro Shazia Mirza Simon Fielder Simon Munnery Sion James Sol Bernstein Stephen Carlin Stephen Merchant Steve Day Steve Hall Steve Parry Steve Weiner Stewart Lee Stuart McCure Sully O'Sullivan Suzy Bennett Terry Saunders Terry The Odd Job Man The Dog Eared Collective Tiernan Douieb Tiffany Stevenson Tom Goodliffe Tom Wrigglesworth Tomi Walamies Tommy Mack Tony Cowards Tony Law Trevor Lock Wez Zaharuk Will Hodgson Wilson DixonZoe Lyons
2009…..
Aaron Counter Adam Bloom Adam Tempest Al Pitcher Albion Gray Alex Maple Alyssa Kyria Amy Button Andrew Lawrence Andrew Stanley Andrew Wallace Ava Vidal Ben Norris Benny Boot Bob Mills Bobby Slayer Brendon Burns Brett Goldstein Brett Sharpe Brian Gittins Broderick Chow Broken Biscuits Cardinal Burns Carl Donnelly Catie Wilkins Chris Addison Chris Martin Chris Mayo Chris Molineux Christian Lee Craig Murray Crispin Flintoff Daniel Hoy Daniel Rigby Danielle Ward Darren Ruddell Dave Thompson David Meech David Mulholland David Whitney Del Strain Doc Brown Eric Lampaert Fergus Craig Gary Coleman George Ryegold Gerry Howell Grainne McGuire Helen Arney Henning Wehn Henry Ginsberg Henry Paker Hils Barker Holly Burn Holly Walsh Howard Read Ian Cognito Ian Stone Imran Yusuf Inder Mancoha Isy Suttie Jack Whitehall James Acaster James Kettle James Mullinger Jane Hill Janice Phayre Jessica Fostekew Jim Grant Joanna Neary Joanne Lau Joe Bor Joe Lycett Joe Rowntree Joe Wilkinson John Gordillo John Kearns Joleed Farah Jon Brittain Jon Kudlick Jon Richardson Josh Howie Josh Widdicombe Josie Long Julian Dean Juliet Meyers Kevin Dewsbury Lee 'Nelsy' Nelson Lenny Beige Lenny Peters Liam Mullone Liz Carr Luke Benson Luke McQueen Luke Roberts Luke Stephen Luke Toulson Maff Brown Magnus Betner Mark Dandy Mark Restuccia Martin Davies Matt Green Matt Kirshen Matt Rudge Matthew Crosby Meryl O'Rourke Mike O Donovan Mike Wilmot Milton Jones Miriam Elia Moonfish Rhumba Nathaniel Metcalfe Nick Helm Nick Rado Papa CJ Pappy's Fun Club Pat Burtscher Pat Monahan Paul Foot Paul Harry Allen Paul McCaffrey Paul T Eyres Pete Firman Phil Kay Phil Nichol Pippa Evans Prince Abdi Quincy Rachel Stubbings Reg D Hunter Richard Herring Richard Sandling Rob Coleman Rob Deering Rob Rouse Robert White Robin Ince Roddy Fraser Roland Gent Rowena Hayley Ryan McDonnell Sajeela Kershi Sanderson Jones Sara Pascoe Scott Capurro Seann Walsh Shappi Khorsandi Shazia Mirza Simon Donald Simon Munnery Stuart Black Stuart McCure Stuckey and Muray Susan Murray Tania Edwards The Roaring Boys Tim Clark Tom Basden Tom Goodliffe Tom Rosenthal Tommy Campbell Tony Law Trevor Lock Vikki Stone Wes Zaharuk Wouter Meijs Yari Perelmuter Zoe Lyons
2010…..
Abandoman Adam Bloom Adam Tempest Addy Van De Borgh Adeel Amini Al Pitcher Alex Maple Alex Mariony Alex Perry Alexsis Dubus Andrew Doyle Andrew Lawrence Andrew O'Neil Ashley Frieze Ava Vidal Bobby Carroll Broderick Chow Bryan Lacey Bryan Walsh Carey Marx Carl Donnelly Catie Wilkins Celia Paquola Chris Mayo Chris Norton Walker Chris Stokes Christian Manley Christian Reilly Chuquai Billy Claire Stroud Colin Owens Damian Kingsley Damion Larkin Dan Antopolski Dan Louw Dan Wright Daniel Rigby Daniel Smith Danny Hurst Danny Steele Darrin Rose Darshan Sanghrajka Dave Twentyman David Baker David Bibby David Whitney Del Strain Diane Morgan Doc Brown Dougie Dunlop Ed O'Meara Edward Aczel Eric Lampaert Erich McElroy Gareth Morinan George Ryegold Gerry Howell Gordon Southern Hannah Warman Henning When Henry Ginsberg Hils Barker Holly Burnk Holly Walsh Ian Stone Imran Yusuf Ione Harding Isy Suttie Iszi Lawrence James Sherwood James W Smith Jamie Glassman Jen Brister Jessica Fostekew Joe Bor Joe Rowntree John Kearns Johnny Armstrong Jonathan Elston Josh Howie Josie Long Julian Deane Kate Smurthwaite Keith Platt Kishore Nayar Lenny Peters Liam Mullone Liam Speirs Lindsay Sharman Liz Carr Loretta Maine Lou Sanders Luke Graves Luke Stephen Magnus Betner Marcel Lucont Mark Restuccia Mark Simmons Martin Hill Matt Green Matt Hatdock Michael Mooney Mickey Anderson Mike Manera Mike O Donovan Mike Wozniak Milton Jones Naz Ozmanoglu Neil Cole Neil McFarlane Nick Helm Nick Revell Ninia Benjamin Nishant Kumar Nobbo Johnson Patrick Monohan Paul Harry Allen Paul Ricketts Paul Sinha Paul T Eyres Pete Teckman Peter Firman Phil Nichol Philberto Pippa Evans Rayguns are Real Enough Rhys Jones Ro Campbell Rob Deering Roland Gent Rosie Wilby Sanderson Jones Scott Capurro Shazia Mirza Simon Feilder Simon Munnery Stephen Grant Steve Hall Susan Murray Suzi Ruffell Sy Thomas Taff Khaliq Tania Edwards Toby Muresianu Tom Allen Tom Rosenthal Tommy Etlling Tony Law Trevor Lock Luke Benson Wes Zaharuk William Andrews Yariv Perelmuter Zoe Lyons
2011…..
Abandoman Adam Buxton Adrian Poynton Alex Maple Alex Marion Alfie Brown Andi Osho Andrew Bird Andrew Lawrence Arnab Chanda Asher Treleaven Ben Crellin Ben Target Benny Boot Bethany Black Bobby Carroll Bobby Mair Brett Goldstein Bridget Christie Bryan Walsh Carey Marx Carly Smallman Chris Martin Dan And Dan Dan Antopolski Dane Baptiste Daniel Smith Danielle Ward Darrin Rose Darshan Sanghrajka Dave Hill David Mills David Shore David Whitney Dylan Bray Eddie Kadi Ellie Taylor Elliott Tiney Fredrick Andersson Gareth Morinan Gary Tro Gavin Inskip Gordon Southern Grainne Maguire Hannah Warman Helen Arney Henry Ginsberg Holly Burn Holly Walsh Horse and Louis Ian Smith Imran Yusuf Inder Manocha Inel Tomlinson Iona Dudley-Ward James Acaster James W Smith Javier Jarquin Jay Cowle Jay Foreman Jen Brister Jess Fostekew Jigsaw Joe Bor Joe Wells Joe Wilkinson Joel Dommett Jonny Awsum Joseph Wilson Josh Howie Josh Widdicombe Josie Long Julia Clark Juliet Meyers Kelly Kingham Kishore Nayar Lateef Lovejoy Laura Carr Lou Sanders Lucy Porter Luke Benson Luke Graves Mae Martin Marcel Lucont Mark Restuccia Mark Stephenson Markus Birman Martin Croser Matt Green Matt Richardson Matthew Crosby Matthew Highton Max Dickens Meryl O'Rourke Michael Fabbri Miles Lloyd Milton Jones Mitch Benn Mr. Cee Nathan Cassidy Nick Helm Nick Sun Ninia Benjamin Nishant Kumar Pappy's Pat Burtscher Paul Harry Allen Paul Ricketts Paul Sinha Paul Sweeney Pete Firman Peter Buckley Hill Phil O'Shea Phil Wang Rayguns Look Real Enough Rhys Jones Rob Deering Robert White Rosie Wilby Sal Stevens Scott Capurro Simon Feilder Steve Aruni & Henry the Hoover Steve Day Steve Furst Stuart Goldsmith Suzi Ruffell Tez Ilyas The Beta Males Tiernan Douieb Toby Muresianu Toju Dagreat Tom Allen Tom Craine Tom Goodliffe Tom Toal Tom Webb Tommy Ettling Tommy Rowson Tony Law Trevor Lock Vahid Jahangard
2012…….
Aatif Nawaz Abandoman Adam Bloom Adam Hess Aidan Goatley Alex Holland Alex Maple Alfie Brown Alistair Barrie Andrea Hubert Andrew Doyle Andrew Lawrence Andrew O'Neill Andrew Watts Andy Davies Andy Zaltzman Angela Barnes Asher Treleaven Ava Vidal Barnaby Slater Bec Hill Ben Target Brett Goldstein Bryan Walsh Bush McCluskey Carey MarxCariad Lloyd Carly Smallman Celia Pacquola Chris Coltrane Dan and Dan Dan Antopolski Dana Alexander Dane Baptiste Danny Ward Darius Davies David Mills David Whitney Doc Brown Ed Aczel Elis James Ellie Taylor Elliot Tiney Eric Lampaert Gareth Morinan Gary Tro Gerry Howell Giada Garofalo Grainne Maguire Cruttenden Helen Arney Imran Yusuf Inel Tomlinson Iszi Lawrence James Acaster James Mullinger James Redmond James W Smith Javier Jarquin Jay Foreman Jessica Fostekew Joe Bor Joe Lycett Joel Dommett John Hastings John-Luke Roberts Jonny Awsum Johnny and the Baptists Josh Howie Joe Lycett Juliet Meyers Katerina Vrana Katie Mulgrew Kishore Nayar Lateef Lovejoy Lenny Peters Lloyd Griffiths Lucy Porter Luisa Omielan Luke Benson Luke Stephen Mae Martin Marc Burrows Marcel Lucont Marcus Brigstocke Mark Restuccia Mark Smith Marlon Davis Martin Croser Matt Forde Matt Green
2013……
Abandoman Andy Zaltzman Aidan Goatley Andi Osho Andrea Hubert Archie Maddocks Barry Castagnola Bobby Mair Ben Van Der Velde Benny Boot Bob Mills Brian Gittins Bryan Lacey Carey Marx Chris Martin Chris Turner Dane Baptiste Darren Walsh David Jesudason Elliot Steel Fin Taylor Funmbi Omotayo Harriet Kemsley Hal Cruttenden Iain Stirling Ian Stone Isy Suttie Ivo Graham Jack Barry Jack Rooke Jack Samuel Warner Jarred Christmas Jim Tavare Jo Caulfield Joe Bor Joe Rowntree Joe Wells John Hastings John Thomson Jonny & The Baptists Josh Widdecombe Juliet Stephens Katie Mulgrew Keith Farnan Kwame Asante Larry Dean Liam Speirs Lucy Frederick Lucy Porter Luke Graves Mark Restuccia Matt Forde Matt Rees Matt Richardson Mike Wozniak Milo McCabe Mitch Benn Moataz Hamdi Nathan Caton Neil McFarlane Nick Helm Patrick Monahan Patrick Morris Paul Tonkinson Norman Lovett Paul Chowdry Paul F Taylor Paul Thorne Pete Firman Philip Simon Pierre Novellie Piff The Magic Dragon Ria Lina Rhys James Rob Deering Robert White Romesh Ranganathan Rosie Wilby Sam Savage Sam Wong Sara Pascoe Sean McLoughlin Simon Munnery Simon Donald Sol Bernstein Sopie Hagen Stephen Carlin Terry Alderton Tom Davis Tom Deacon Tom Hayward Tom Toal Tom Wrigglesworth Tony Law Vikki Stone Zoe Lyons
2014……
Jim Campbell Holly Walsh David Jesudason Darren Walsh Ed Aczel Matthew Highton Amy Howerska Abandoman Andrew O'Neill Nish Kumar Allyson J Smith Evelyn Mok Chris Coltrane Marcel Lucont Andrea Hubert Amir Khoshokhan The Storybeast Zoe Lyons, Paul F Taylor Sofie Hagen Tez Ilyas Keith Farnan Tom Toal Lee Nelson Olaf Falafel Sir Ian Bowler Joel Dommet Inel Tomlinson Ava Vidal Archie Maddocks Hill & Wheedon Harriet Kemsley Gary Tro Dave Green Ed Gamble Daniel Simonsen Lindsay Sharman Stu Richards