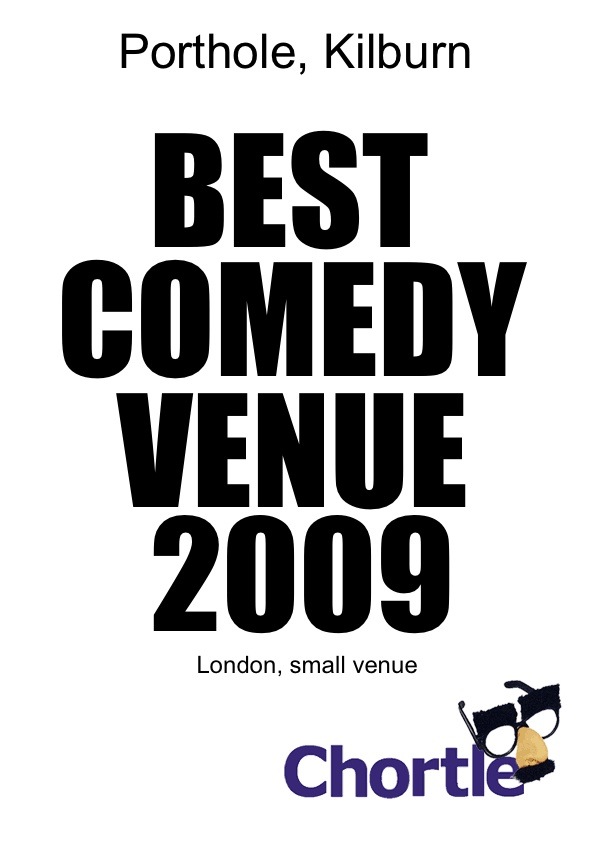 COMEDY
Join us every Monday from 8pm for the best in stand up comedy and at just £5 (or £4 in advance) entry fee there is not a better value night of Comedy to be had!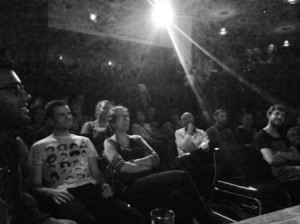 You can book tickets in advance here: WHAT'S ON PAGE, or just by scrolling down, finding the gig you want to come to and hitting 'CLICK HERE TO BUY TICKETS'. To keep updated on line-ups, special offers and ticket news follow us on Twitter @GoodShipComedy or LIKE our Facebook page!
You can also sign up to our Mailing List here:
Monday 3rd August 2015
CHRIS MCCAUSLAND
http://www.mccaus.land/
Chris McCausland is a stand up comedian and actor. He is also the only professional comedian in the world who is blind, and after performing stand-up since 2003, is firmly established at the very top of the UK's live comedy circuit. Chris can regularly be seen performing at all of the country's major clubs including the world famous Comedy Store in the heart of London's West-End.
Between 2005 and 2012 Chris took six different stand-up shows to the Edinburgh Festival and in 2011 was awarded the Creative Diversity Award for Comedy by a Channel 4 led panel of broadcasters that included BBC, ITV and Sky.
In 2008, 2010 and 2012 he appeared performing stand-up in three series of The Comedy Store for Paramount Comedy and Comedy Central. He also secured a lead role in the Jimmy McGovern drama 'Moving On' (BBC1), whilst other TV credits include, 'Rudy' the Market Trader in the Cbeebies show 'Me Too', 'Celebrity Deal or No Deal Comedian Special' with Jimmy Carr and 'Unwrapped' (BBC2) with Miranda Hart.
"Comedic brilliance." Jasper Carrot
"A stirling set – elegantly written and engagingly performed." Chortle
LUKE BENSON
http://www.lukebenson.co.uk/
Geordie Giant Luke is a stand-up/writer/actor/podcaster/bloke. He's a talented chap, having reached many new act finals and since then has been sharply making his way through the circuit to be a trusty headliner. He has performed extensively in the UK & also abroad, doing shows in the Balkans, Scandinavia, Luxembourg, Spain, Belgium AND Bahrain.
He has written & performed three full-length solo shows in the last 3 years. "Luke Benson: Makes Something of Himself", a show about turning 30 & trying to do well. "Legendary Feet". A show looking at mythology & trying to write ones own legend through worthy feats. "Backseat Hero": A show about being stalked by a Taxi-Driver. Funnier than it sounds.
He has appeared on Channel4, Channel 5, GinxTV, Radio 1, 6Music, Radio4, Capital, Virgin and Absolute Radio & written for BBC Radio4 & Sky.
"Impressive verbal dexterity that was thoughtful, clever and very funny. He did it again later, and then again…Luke Benson is a genuinely funny guy and deserves more than his fair share of the Edinburgh audience." Gigglebeats
"A quirky observational set that earns him lots of applause…He looks the part, he's got the talent, and it's easy to imagine him on the telly." Sunday Times
LIAM PICKFORD
@HouseofPickford
Manchester based comedian Liam Pickford provides "A surrealist slant on the art of stand-up that is refreshingly original and full of justified applause breaks." (BBC).
Pickford's unique delivery and innate ability to breathe humour into even the most obscure subject matter has led to him being described as "An engaging comic to watch, with a nicely shambolic, lolloping onstage presence" (Bristol Post) whose first year in comedy saw him reach the semi-finals of both the BBC Radio 2 New Comedy Award and the Chortle Student Comedy Award. Pickford mixes the audience with his own uncompromising ability to create a style described as "Bold, antagonistic comedy, Liam Pickford's ego-driven mix of misanthropic exploits and audience interaction sets the stage alight." (Juice Comedy)
AND YOUR HOST:
DAVID MORGAN
http://thisisdavid.com/
Bespectacled, Jedwardian boy wonder David Morgan is funny. With a capital F. When he isn't tweeting, watching television or repointing his quiff he's travelling up and down the country telling jokes. A brilliant MC David's ability to make audiences 'feel they've had a show performed specifically for them' (London is Funny) cements him as a firm favourite on the circuit.
His debut hour show 'Triple Threat' premiered at Dave's Leicester Comedy Festival where it earned a nomination for 'Best New Show' and then was in the final shortlist for the 'Amused Moose Laughter Award' up at the Edinburgh Festival Fringe in 2011.
An avid television enthusiast David's love of the small screen led to him creating a popular rundown of The Eurovision Song Contest that was even included in the BBC's Online Coverage. He is also a regular panellist on Big Brother's Bit on the Side (that's how much he loves television).
"A joy to behold." Metro
"Immensely likeable stage presence, a smart neat turn of phrase." The Scotsman
Amazingly just £5 entry (or £4 in advance online)
Doors 6pm for 8pm start.
Monday 10th August 2015
ALLYSON SMITH
http://www.allysonjunesmith.com/bio.html
Since 2000, Allyson June Smith has been tickling Canada's comedy scene from the moment she put down the chalk brush and picked up a mic. Playing to packed rooms has become like another day in the classroom for this former schoolteacher. She came to open the show for us last year and absolutely destroyed the room, so we've invited her back to headline as a treat to her and you. This is one sleeper hit of a comic you shouldn't miss.
With credits including her own hour long Comedy special on Canadian television, writing for CBC Radio's hit show The Debaters, and now her third showing this July in the prestigious Montreal's Just For Laughs Festival.
It is her genuinely unique sense of humor and excellent performance timing that has made audiences laugh. This teacher-cum-comic is ready to show international audiences why she is a sought-after fan favourite. Allyson have appeared at the Just For Laughs Festival three times. As well as being nominated for the 2012 Canadian comedy awards for best female stand up comedian.
"Allyson Smith reminds me of a younger, prettier, funnier me. Now if you'll excuse me, the ladies from my bridge club have arrived." Stewart Francis
GRAINNE MAGUIRE
http://www.grainnemaguire.com/
Gráinne Maguire is a stand up comedian, comedy writer and columnist. Her excitable charm and original material means she is a popular MC and gigs regularly around the UK and Ireland.
Her 2012 Edinburgh show "Where are All the Fun Places and are Lots of People There Having Better Fun?" was a critical smash, with two of her jokes appearing in The Independent newspaper's top ten jokes of The Edinburgh Fringe. She has also appeared as a guest on R4s "Now Show" "An Idiots Guide" "Front Row" and "Women's Hour" and on R5s "7 Day Sunday" and most importantly on "Stewart Lee's Alternative Comedy Experience" on Comedy Central.
As a politics nerd and pop culture obsessive Gráinne knows as much about the vagaries of Collation government as she does about Cheryl Cole's relationship choices. Too much. She writes for a wide range of websites and newspapers including "Total Politics" "The Evening Standard" and "The Independent". She is an excellent topical joke writer and has written for "8 Out of 10 Cats", "News Quiz", "The Show What I Wrote" and "The Now Show".
"An engaging and natural performer with deep reserves of excitable energy. Can employ understatement with the dry mastery of a Father Ted script." Chortle
"Highly promising, delightfully quirky – has a big future ahead of her." Time Out
SUNIL PATEL
http://www.sunilpatelcomedy.com/
A calm, ultra-downbeat stand-up with an aloof, outsider perspective, Patel is a real misery guts, but can find laughs in the bleakest of topics. He's a deviously sharp writer, with his nihilistic gags getting him to the final of the 2012 BBC New Comedy Award competition and gaining him a nomination for Chortle Best Newcomer in 2013.
"Bleak but beautifully funny." Bruce Dessau, Beyond the Joke
MO GILLIGAN
@Mothecomedian
AS HEARD ON RADIO 1
Already a series regular in the smash hit sketch show 'The Johnny and Inel Show' and star of a sell out stand up tour, Mo Gilligan is a gifted young actor and comedian. His charismatic style and stunning physicality has already earned him dedicated fans on both the mainstream and black comedy circuits.
DANNY SUTCLIFFE
http://www.dannysutcliffe.co.uk/
"Dazzles with his mix of surreal and observational gags." The Skinny
"One-liners Jimmy Carr would be proud of." Chortle
AND YOUR RESIDENT HOST:
BEN VAN DER VELDE
http://benvandervelde.com/
Consisting of 60% belly button hair and 40% stupid comments about whatever's in front of his nose, Ben has been entertaining crowds nationwide for years and galaxy-wide for centuries, using a contraption that the CIA would bloody love to get their hands on.
"A life-giving compere." Chortle
Amazingly just £5 entry (or £4 in advance online)
Doors 6pm for 8pm start.
Monday 17th August 2015
ROB DEERING
http://www.robdeering.com/
Rob Deering performs stand-up comedy with music, using a guitar, a loop pedal and his voice to create impressive rock and pop soundscapes – and do jokes, of course. Along with being one of the most in-demand headliners on the UK circuit, he's toured nationally and performed solo shows at the Edinburgh Fringe many times since starting out in comedy in the year 2000. His late-night, live-music pop quiz Beat This is a festival institution. Rob has performed throughout the world, in shows from the Middle East to Melbourne, Shanghai to the South of France, and he has appeared on any number of Radio and TV shows since starting out on 99 Things To Do Before You Die, most recently winning Celebrity Mastermind on BBC One.
"Ingenious and hilarious." The Guardian
"As sharp and versatile as a Swiss Army knife, Rob Deering is one of the best performers currently on the circuit." The Independent
"A circuit favourite." Time Out
"A highly impressive one-man soundscape powered mainly by energy and excellent guitar skills." The Scotsman
DEBRA-JANE APPLEBY
http://www.debrajaneappelby.com/
Winner of both The Leicester Mercury Comedian of the Year, and Funny Women Comedy Award, Debra-Jane has appeared BBC's 28 Acts in 28 Minutes and on Comedy Central's The World Stands Up as well as regular appearances on BBC Radio 5 Live, and as a guest on BBC Radio 4′s Woman's Hour.
Debra performs up and down the country with her Northern no-nonsense take on the world, gaining accolades wherever she goes.
"A warm, charismatic stand-up." The List
"Razor sharp…never misses a beat." ScotsGay
"Her brusque straightforwardness in her persona gives the sometimes sarcastic, sometimes surreal social commentary she delivers a certain brutality that makes it all the more funny." The Scotsman
KAE KURD
http://www.kaekurd.com/
Smart, sharp and brilliantly astute, Kae Kurd is a young British-Kurdish stand up. Passionate about making politics accessible to young people, his comedy presents beautifully crafted slick routines with confident cutting edge flair. Having already conquered the urban circuit, 2014 saw him make his transition to the
mainstream and he now regular performs at leading venues, as well as being a regular on Radio 1.
NEIL MCFARLANE
@ReasonableNeil
Neil performs in locations across the length and breadth of the British Isles, attracting widespread concern, and has also entertained international audiences in places as far-flung as Tenerife, Croatia, Serbia, Slovenia, Romania, the Czech Republic, the two Channel Islands you can actually get to, Florida, California and Kent.
"Really rather good." The Times
"A clear ability to craft a gag." Chortle
AND YOUR RESIDENT HOST:
BEN VAN DER VELDE
http://benvandervelde.com/
Consisting of 60% belly button hair and 40% stupid comments about whatever's in front of his nose, Ben has been entertaining crowds nationwide for years and galaxy-wide for centuries, using a contraption that the CIA would bloody love to get their hands on.
"A life-giving compere." Chortle
Amazingly just £5 entry (or £4 in advance online)
Doors 6pm for 8pm start.
Monday 24th August 2015
SOL BERNSTEIN
http://www.solbernstein.co.uk/
When a legend reaches a certain point in their career, it's time to ease up on doing legendary things and reflect on an exemplary life. Sol Bernstein has reached that point, and he invites us to listen to his tales of the high life with the biggest names in showbiz, musings on how the world has changed, and being just an ordinary Jew with world-beating wit, unbounded talent and death-defying chutzpah.
But despite such a life, Sol has suffered an unforgiveable injustice. Heard of Elvis Presley? No? How about The Beatles? Really? Ok then, surely Marcel Marceau? Good. Well Sol Bernstein launched the careers of these greats and many more, and what did he get for it? Nada. Nothing, not even a 'thank you'. But having escaped the Pogroms in Russia and the Nazis in Germany as a child, Bernstein is no stranger to pain, and hardships – in all their forms – have made the man what he is. Such struggles – be they life-threatening or merely female nagging – give Sol Bernstein not only the inspiration to face each new day but the material for his limitless supply of comedy shtick. The resulting performances – not to mention charisma alone – have given the man good reason to enjoy fame and build friendships with, among so many, the likes of Burt Bacharach, James Brown and Harry Hill.
He's got so much to say and – being now in his 80s – so little time to say it. Catch this legend and genius while you still have the chance. Singer, dancer, comedian, magician, actor and musician Sol Bernstein was born in Ukraine. Having been rated Best Triangle Player by Miles Davis, Louis Armstrong and Duke Ellington in the 1950s, he went on to perform across the globe at venues such as The London Palladium, New York's Carnegie Hall, The Paris Olympia and Caesars Palace in Las Vegas. Besides his work with Elvis, The Beatles and Judy Garland, he's also been friends and worked with greats such as The Rat Pack, Lenny Bruce, Jack Benny, George Burns and Milton Berle. He also played for Miles Davis. Now in his 80s, he still performs at all the top UK clubs.
"Simply my favourite comic – the funniest hour you'll spend this summer." Harry Hill
"One part Alf Garnett, two parts Mel Brooks, and three parts like nothing you've ever
heard." The Guardian
"Like a good salt beef sandwich with laughs…you really should see him soon." The Scotsman
PAUL F TAYLOR
http://www.what-the-f.co.uk/
The award winning Paul F Taylor is a one of the UK's most original and distinctive stand-up performers. His unique brand of humour fuses quirky offbeat one liners with surreal and observational flights of fancy to fantastical effect. Winner of the NATY New Act Of The Year for 2013, Paul's persona of a lost bewildered fool sits perfectly alongside his gleefully madcap ideas.
Paul has also achieved notable success as a screen writer and actor. Milk! that he co-wrote and starred in, was the ShortCom Jury Select Winner 2015, and was in the official selection in LOCO, Nashville, LOL, Shortwaves, Glasgow and London Short Film festivals. Battlecock! that he also co-wrote and starred in, made it into the official selection at the BFI London Film Festival 2013.
Paul is also half of the double act "Short & Curly" (with our very own Rebecca Shorrocks) and also one half of "Helm and Taylor" (with Nick Helm).
"A welter of daft, Harry Hill-like ideas and diversions & chucks characters around with the agility of the Pajama Men." The Independent
"Capable of deceptively smart subversions of existence… Taylor evokes vivid visual imagery." The Scotsman
"Brilliantly funny nonsense." The List
ROB CARTER
@_RobCarter
Rob's satirical songs and intelligent wit led to him being crowned winner of the Musical Comedy Awards in 2012. Since then he has become a regular on the circuit, using his charming presence and quirky metaphors to entertain crowds all around the country, as well as popping up on 'Peep Show' and 'Fresh Meat' on the tellybox.
"Rob Carter does what he does impeccably." Chortle
GARY TRO
@GTrizz
Starting stand-up in 2010, Gary quickly established himself as an up-and-coming comedian. He has performed his infectious and self-deprecating observations in many of the UK's most popular clubs.
"Excellent material with a fresh style." Comedy Store, Manchester.
AND YOUR RESIDENT HOST:
BEN VAN DER VELDE
http://benvandervelde.com/
Consisting of 60% belly button hair and 40% stupid comments about whatever's in front of his nose, Ben has been entertaining crowds nationwide for years and galaxy-wide for centuries, using a contraption that the CIA would bloody love to get their hands on.
"A life-giving compere." Chortle
Amazingly just £5 entry (or £4 in advance online)
Doors 6pm for 8pm start.
Tuesday 25th August 2015
RICHARD HERRING – HAPPY NOW (work in progress)
http://www.richardherring.com/
After years of drifting aimlessly and alone, Richard Herring is now settled down with a wife and a tiny baby. Is he finally happy now? Or does responsibility for the lives of others come with its own terrors? In his twelfth solo stand up show, Richard examines whether we can ever hope to be or are meant to be truly content. If we were never unhappy would happiness have any meaning? Why do our brains force us to envision the worst possible outcomes even on a day when everything seems fine. How likely is it that Richard's baby will be skewered by a stalactite of frozen urine falling from a plane and is it really worth him wasting his time thinking about it? Does being happy mean a comedian loses his edge and true belly laughs only come from depression? How much pressure was there on Happy the dwarf to live up to his name? Is there any system that will guarantee us eternal bliss or should we just embrace the fact that life is a vale of tears and our only option is to laugh in its face?
"The best comedian of his generation." GQ
"Herring is a superior comedian…hilarious." The Guardian
"Stimulating and Exhilarating…Utterly hilarious." Chortle ★★★★★
JIM CAMPBELL
@jimcampbelltfr
JIM CAMPBELL is a stand up, writer and actor. His 2 solo hours at Edinburgh played to sold out houses and critical acclaim and his debut was named one of the Top 10 EdFringe shows in the Amused Moose/2Entertain Laughter Awards. He was a finalist in So You Think You're Funny, Amused Moose and the Soho Theatre New Act competitions. Jim has written for ESPN and Russell Howard's Good News (BBC3) and his podcast, The Football Ramble has won 7 awards and has over 80,000 listeners.
★★★★ The List ★★★★ Fest ★★★★ Fringe Guru★★★★★ Cream of The Fringe
"Exquisitely written, punchline-driven material without cliché. It's hard to imagine a subject he couldn't come up with an original and literate joke about." Chortle
"Without a misstep…a superb example of how to craft comedy." The List
Amazingly just £5 entry (or £4 in advance online)
Doors 6pm for 8pm start.
Monday 31st August 2015
ADAM KAY
http://www.adamkay.co.uk/
Adam started out life as a doctor but after a brief medical career, he swapped his white coat for a microphone. He fronted the popular musical comedy act The Amateur Transplants, whose iconic London Underground Song had over 10 million hits on iTunes. The ATs have produced four number one albums in the iTunes comedy charts and were winners of the 2014 London Cabaret Awards.
Also… he has sold out seven Edinburgh Festivals and three nationwide tours, written numerous TV shows (including CRIMS on BBC Three), performs on the Radio 4 Now Show and even played Prince Harry's 30th birthday party.
"Sharp, snappy and brilliantly rude – it left us with eyeliner streaming down our face." ★★★★★ Cosmopolitan
"Filthy at best, depraved at worst – and great, guilty fun." ★★★★ The Telegraph
"Bracingly intelligent…Enormous fun." ★★★★ The Times
"This made me very, very happy." Stephen Fry
JOE WELLS
http://www.joewells.org.uk/
Joe Wells' writing career began when his first book 'Touch and Go Joe' about his experiences of OCD was published, since then he has made a name for himself as a stand-up comic, writer and speaker. Joe now focuses mainly on his unique brand of political comedy and in 2012, Joe was asked to support Alexei Sayle on his comeback tour.
Joe is now frequently performing stand up in comedy clubs around the UK and is also a writer for the second series of 'The Revolution Will Be Televised'.
'Night of the Living Tories' was Joe's first hour long stand up show, in which he dug up the corpses of the British Conservative Party of the past and put them on display to horrifying consequence. Joe Wells latest project is called 'Think Tank', its a live show and podcast where comedians put forward ideas to a panel of real life politicians
"Blessed with a natural comic timing… Wells has a remarkable gift of laying it down to the audience with confidence and integrity… This show is a genuine hidden treasure of the Fringe and Wells is much more than the usual fist-in-the-air outrage merchant… Clever, insightful and funny, well structured jokes are set up and delivered intelligently and candidly. Top stuff." ★★★★ Chortle
"Night of the Living Tories offers up a battery of good jokes about our bad government." The Guardian
MATT HIGHTON
http://www.matthewhighton.co.uk/#!about/mainPage
Reknowned for his surreal storytelling Highton is a key member of the Chortle nominated Weirdos collective ("the closest thing we have to a modern day Comic Strip"- Chortle) and writer/director of their cult anarchic pantomime smash hit The Colonel ('Top Ten Christmas shows 2013' Time Out and The Independent). Highton also plays a lead role in the sell out show Knightmare Live (★★★★ The Independent, ★★★★ Den of Geek, ★★★★ Metro), which is preparing for a second national theatre tour that closes at The Lyric Theatre in London and has residencies at Comedians Cinema Club (★★★★ Chortle) and the Geekatorium.
"Warm, intelligent and beautifully written." The List
YURIKO KOTANI
@YurikoComedy
A relative newbie to the London comedy circuit, Kotani uses her low-key outsider perspective and skewed logic to dissect London living, from strange posters on the Overground to the untranslatable Britishism of adding '-ish' to words (we put the 'ish' into 'British', you could say). Her wonderfully offbeat stories have earned her places in the final of a bunch of new-act comps, and she's storming the open-mic circuit with her rug-pulling punchlines and bizarre observations.
AND YOUR RESIDENT HOST:
BEN VAN DER VELDE
http://benvandervelde.com/
Consisting of 60% belly button hair and 40% stupid comments about whatever's in front of his nose, Ben has been entertaining crowds nationwide for years and galaxy-wide for centuries, using a contraption that the CIA would bloody love to get their hands on.
"A life-giving compere." Chortle
Amazingly just £5 entry (or £4 in advance online)
Doors 6pm for 8pm start.
Monday 7th September 2015
NATHAN CATON
http://www.nathancaton.com/
Nathan Caton's charismatic and laidback style of stand up has seen him quickly establish himself on the comedy circuit. Regarded as one of the best young comics in the UK Nathan's award-winning combination of personal and topical anecdotes has lead to appearances on BBC2′s Mock The Week, BBC3′s Russell Howard's Good News, BBC Radio 4′s Now Show, News Quiz and his BBC Radio 4 sitcom Can't Tell Nathan Caton Nothing being commissioned for two series with a third series due to air in 2014.
"Laidback, on-the-nose material, chopping down fools of all colours, both in day-to-day life and in the media." The Guardian
"A slick performer with an unbeatable stage attitude and the confident air of someone much more experienced." Chortle
PHIL JERROD
http://philjerrod.com/
Phil Jerrod began his stand-up career underneath an Angus Steakhouse in 2012. Since then he has failed his PhD, walked out of his job in publishing and been entertaining audiences up and down the country with his elegant rants on the often unfathomable problems of modern life.
"Such a brilliant set – well observed, well written and funny obvs!" Josie Long
"Behind the beard is a comic whose instinctive mastery of his form immediately marks him out as one to watch."
The Guardian
"Smart, polemical and witty observations full of insight and devoid of cliche." Chortle
TOM LUCY
http://www.tomlucy.com/
Tom Lucy is, without a shadow of a doubt, the hottest new act on the comedy circuit. At barely 19 years old he's shot onto bills up and down the country and wowed crowds with his sharp turn of phrase and remarkable assuredness. Top performances have seen him become the youngest act ever to work professionally at the Comedy Store and also support Shappi Khorsandi on one of her tour dates.
"Outstanding young comic and one to watch. Headed for great things!" Harry Hill
FAYE TREACY
@FayeTreacy
Musical Comedy Awards, Best Newcomer Faye Treacy went to the Brit School of performing arts with Adele and Jessie J and then studied the trombone at the Royal Academy of Music with no-one interesting! Busy on the London scene, Faye started standup 2 years ago and made the finals of the Reading Comedy Festival New Act Competition after her first year.
"Bucket full of comedic talent…Original, engaging and clearly comfortable in front of a large audience, Faye is one to watch for the future." Lynne Parker, Funny Woman
"Give a standing ovation for Faye Treacy, beautiful work, stunning.. Oh dear God a miraculous world of vegetables trombone ghosts…Superb stuff…Incredible." Phil Kay
AND YOUR RESIDENT HOST:
BEN VAN DER VELDE
http://benvandervelde.com/
Consisting of 60% belly button hair and 40% stupid comments about whatever's in front of his nose, Ben has been entertaining crowds nationwide for years and galaxy-wide for centuries, using a contraption that the CIA would bloody love to get their hands on.
"A life-giving compere." Chortle
Amazingly just £5 entry (or £4 in advance online)
Doors 6pm for 8pm start.
Monday 14th September 2015
ANDY ZALTZMAN
http://thebuglepodcast.com/
Andy has firmly established himself in the vanguard of British comedy and a Good Ship favourite with his unique brand of political satire. If such a title as Satirist-in-Chief or Royal Purveyor of Anti-Establishment Bullshit existed (and wasn't contradictory) then Andy Zaltzman would deservedly hold it for life. For the past five years, along with 'The Daily Show's' John Oliver, Andy has hosted the satitical 'The Bugle' podcast, simply the finest example of its kind and with a loyal following of thousands upon thousands of listeners who greedily hoover up Zaltzman's wonderfully ornate wordplay and imagery. Just don't get him started on a pun run or we'll never leave the venue!
Andy is a prolific writer and presenter, having contributed to 'Bremner, Bird and Fortune' and '7 Day Sunday' with Al Murray, as well as appearing on BBC Radio on 'The News Quiz', 'The Now Show' and 'Fighting Talk'. He also has a classics degree from Oxford University and is not afraid to use it.
Alongside John Oliver, Andy co-wrote and hosted two series of the BBC Radio 4 show Political Animal, based on their satirical live stand-up show. Andy continues to host and curate Political Animal, with ongoing live performances featuring special guest stand-ups, including a sell-out London run at the Soho Theatre in Spring 2012. Political animal has featured a long list of guest appearances, notably Stewart Lee, Russell Brand, Frankie Boyle, Russell Howard and Richard Herring. Together, John Oliver and Andy have co-written and presented the work he is probably best know for – The Bugle – an ongoing series of satirical podcasts which produced over 178 episodes in association with The Times, before becoming independently run in January 2012. The Bugle's success has grown significantly since its inception in 2007 and now averages 500,000 downloads a week.
Andy's numerous diverse TV appearances include Dave's One Night Stand (Dave), 8 Out of 10 Cats (Channel 4), Newsnight (BBC Two), Sky News, stand-up on Russell Howard's Good News (BBC Three), Daily Politics (BBC Two), CNN, The Late and Live Guide to Comedy (BBC2), The Politics Show (BBC1) and BBC News. He has worked regularly with Rory Bremner on a number of his television and radio projects. He has written for several series of Bremner, Bird & Fortune (Channel 4). Rory Bremner also appeared on Oliver and Zaltzman's US election special for BBC Radio 4; Transatlantic. Andy went on to write and perform for Tonight with Rory Bremner in 2011 and 2012.
An avid sports fan, Andy hosted Yes! It's The Ashes for BBC Radio 5Live. He's a regular on Radio 5's 7 Day Sunday with Al Murray and has appeared on sporting punditry show Fighting Talk. Andy writes regularly for international sports channel ESPN's online cricket blog Cricinfo, During the 2011 World Cup, he followed the tournament with his monthly blogging and podcast commentary, whilst touring around India and Bangladesh performing his stand-up.
Since being nominated for the Perrier Best Newcomer Award in 2001, Andy has been a regular at the Edinburgh Festival. He took his most recent acclaimed solo show, Armchair Revolutionary to the Fringe in 2011. In 2007 Andy performed an award-winning Melbourne Festival debut, winning the Piece of Wood Award as the comedian's comedian.
"The best political comedian in the business, Zaltzman lets loose a veritable torrent of jokes, facts, observations, very short stories, silly remarks and inspired asides… Zaltzman is breathtakingly good."
Time Out
"One hand on the political pulse and the other jagging viciously at the comedy jugular, where insight takes second place to a tightly scripted succession of devastating punchlines blended with a winning anarchic energy." The List
SARAH CALLAGHAN
http://www.sarahcallaghan.com/
Beautifully honest and infectiously upfront in style, Sarah Callaghan started performing in 2010 and quickly made her mark becoming a Funny Women finalist. Her unique stage persona has led to an impressive gig history with performances at some of the UK's most famous venues. Her reputation for delivering observational humour that doesn't pull any punches lead to her beating hundreds of hopefuls to win the legendary Up the Creek's 'One to Watch' Competition in 2013.
"Magnificent performance, an absolute natural." Fest
"No-nonsense rising star." Time Out
TOM O'MAHONY
@TOM_OMAHONY
Tom is a regular club headliner in his native Ireland and has supported megastars such as Nina Conti, Abandoman and Stewart Francis on their tours of the country as well as being one of the last actors to work with Rik Mayall before his untimely death (we're not blaming him!)
"O'Mahony, brilliantly bad ass and brings a much-needed swagger to proceedings" entertainment.ie
AND YOUR HOST:
LAURA LEXX
http://lauralexx.blogspot.co.uk/
Laura is a comedian who presents fast, funny, warm and witty work in a loveable confessional style. With a unique, joyous take on life and musings on the funny world we live, Laura relishes in all things interesting, entertaining and above all: happy. Currently developing her new show Lovely Laura was a finalist for the Chortle Student Comedy Awards in 2009 and has since performed at venues and Fringe festivals around the UK.
"One of the most delightful performers you're ever likely to see." GQ Magazine
"It's understated but well-realised stuff, and don't mistake the gentleness of her approach for a lack of real comedic steel." The Guardian
Amazingly just £5 entry (or £4 in advance online)
Doors 6pm for 8pm start.
Monday 21st September 2015
ELLIE TAYLOR
http://www.ellietaylorcomedy.com/
Ellie's been doing stand up comedy since 2010. She likes it. She's also done telly stuff since then including 8 out of 10 Cats, Mock the Week and, most recently, The John Bishop Show. Frankly, she's got superstar success written all over her – she's warm, personable, a terrific mimic and bloody hilarious all round. She's not to be missed for her frank tales of life as a former model or her ridiculously daft take on the world.
"Charismatic, personable and bright." Chortle
"Smart, self-mocking and telegenic, it's hard to see what is going to stand in Taylor's way." The Scotsman
"Radiates natural charisma… blessed with great flair." The Guardian
CHRIS BETTS
http://www.chrisbettsisntfunny.com/
Chris Betts has performed all across Canada, the United States and the UK at independent venues, comedy clubs and international festivals including Dave's Leicester Comedy Festival, SXSW and the Zulu Comedy Festival. Chris moved to London and in 2014 was chosen to be appear as part of the prestigious package show The Comedy Reserve at the Pleasance during the Edinburgh Fringe Festival. He was recently a finalist in both the Leicester Square Theatre New Comedian of the Year competition and the 2015 NATYs (New Act of the Year) at the Bloomsbury Theatre. Chris has a style that is equal parts confident, thoughtful, ridiculous and mischievous and has been entertaining audiences across the UK ever since his arrival. He's returning from a cracking run at the Edinburgh Fringe funnier than ever.
"An enticing prospect, a Canadian who deals in off-kilter thoughts sharpened by the occasional prod at taboo topics." The Independent
"Canadian Chris Betts has a confident style and a solid set… a glint of steelier edge." Chortle
ROB AUTON
http://www.robauton.co.uk/
York born writer, comedian and one time actor Rob Auton has ideas, writes them down and says them to audiences at comedy nights, poetry nights and at theatres at night. Rob has been standing up and saying things to audiences up, down and across the British Isles since 2008. He has written three five star rated Edinburgh fringe shows, 2012′s 'The Yellow Show', 2013′s 'The Sky Show', and 2014′s 'The Face Show'. He continues to build an audience through his unique world view and was the 2014 Glastonbury Festival official 'Poet in Residence' where Cerys Matthews told him live on air on Radio 6 "Rob, I could talk to you forever."
In 2014 the Guardian called Rob 'a genuine original' after seeing his Edinburgh fringe show 'The Face Show' (an hour long comedy/theatre show about faces). In 2013 Rob won the 'Dave Funniest Joke of The Fringe' award with a gag about Chinese Wispas. On the day the news broke, Rob spoke to Vanessa Feltz on Radio 2, the conversation resulting in her saying "that's just sad" a quote that will stick with Rob forever.
In the past two years he has had two collections of writing and illustrations published by Burning Eye books and has had his poetry turned into short films and shown on Channel 4. Rob also starred in and co-wrote the short film 'The Peamaster' which was nominated for best short film at the 2012 Milan Film Festival.
"Few artists have ever managed to consistently provide me with such joy and pleasure as Rob Auton. I always leave in awe of how good he is." Scroobius Pip
"Charming, eccentric and uplifting, Auton is a talent to watch." The Independent
"Poetical, philosophical, humane, completely charming and funny to boot." The Guardian
LOLLY ADEFOPE
@lollyadefope
Leicester Mercury New Comedian of the Year 2015 nominee and rising star Lolly Adefope makes her Good Ship debut. In her relatively short career she's already been heard on BBC Radio 4 (The Now Show, Newsjack, Fresh from the Fringe) BBC Radio 1Xtra, and appeared on Channel 4, BBC 3 and Sky Arts.
She is a member of the cult hit The Bearpit Podcast Podcast, created with fellow comics John Kearns, Mat Ewins, Adam Hess, Fin Taylor and Matt Winning, and is a regular performer with The Invisible Dot, including at the Fringe last year as part of The Invisible Dot Circus and The New Wave.
"Promising newcomer." Independent
AND YOUR RESIDENT HOST:
BEN VAN DER VELDE
http://benvandervelde.com/
Consisting of 60% belly button hair and 40% stupid comments about whatever's in front of his nose, Ben has been entertaining crowds nationwide for years and galaxy-wide for centuries, using a contraption that the CIA would bloody love to get their hands on.
"A life-giving compere." Chortle
Amazingly just £5 entry (or £4 in advance online)
Doors 6pm for 8pm start.
Monday 28th September 2015
PAUL MCCAFFREY
www.paulmccaffrey.com/
Paul McCaffrey has quickly established himself as one of the most exciting new acts around, winning both The London Paper and the Latitude Festival new act competitions in 2009. In 2011 Paul took his debut solo stand-up show, 'Saying Something Stupid' to the Underbelly, to great critical acclaim, having previously appeared as part of the Big Value Comedy Show and the AAA Stand-Up Show at The Pleasance.
Paul has been heard on Russell Kane's Whistle-Stop Tour (BBC Radio 2) and is a regular guest on The Matt Forde Show (talkSPORT). He recently filmed the stand-up spot on Russell Howard's Good News (BBC3) and is currently involved in a new series of the popular BBC3 show 'Impractical Jokers'.
"A brilliantly entertaining hour full of laughs, beautifully delivered by an act who should be destined to headline the main stage." Chortle
"He has charm, charisma and success written all over him." Evening Standard
"Obviously born to be a comic." The Scotsman
PETER BRUSH
http://peterbrush.net/
A highly distinctive performer and deft writer of finely crafted jokes, Peter Brush unassumingly takes the stage with his slight bespectacled frame and scruffy hair, before consummately conquering it with an arsenal of razor sharp quirky one-liners and peerlessly original routines, all delivered in an amusingly awkward fashion.
Peter has been a finalist in a variety of local and national comedy competitions including the BBC New Comedy Award 2013, as well as winning the Harrogate Comedian of the Year 2012. He has also written for BBC Radio 4's 'The News Quiz', 'The Show What You Wrote' and 'Newsjack', and supported Arthur Smith during his 2013 tour.
"An imaginative use of language and obtuse angles of thought that produce distinctive and eclectic gags…his best lines are inspired." Chortle
"Clever and original." Bruce Dessau, Beyond The Joke
"Yorkshire's answer to Woody Allen." Harrogate Advertiser
TOM PRICE
www.pricetom.com
Tom is a Welsh comedian straight out of the mean cobbled streets of Monmouth town. Best known for playing PC Andy in Torchwood he is also a radio broadcaster, voiceover artist and stand-up comic. As a stand-up Tom was a finalist in the Daily Telegraph Open Mic award, The Paramount Comedy New Act Award, and ITV's Take The Mic. He hosted BBC3's World Series of Dating with Rob Riggle, and his most recent appearance was on Alex Zane's Live At Century on LondonLive. He also hosted his own panel show on BBC Radio Wales for two years, and is about to launch a new version, The Leak, in the autumn.
"Endlessly inventive and brilliantly funny." The Scotsman
"Assured and hugely likeable." The Guardian
RICHARD SOAMES
@richardsoames
Richard Soames is an actor, writer, comedian and improviser in critically acclaimed sketch group The Beta Males, who were nominated for Best Sketch or Character Act at the Chortle Awards 2012. The Betas have just completed their third sell out, 5 star Edinburgh run The Space Race. Richard has also studied Chicago-style long-form improv under Second City alumnus David Shore, is a main UK cast member of the multi-award winning improv show Monkey Toast and guests on Chortle award nominated smash Austentatious and Grand Theft Impro.
"A slick, hilarious sketch show… Genius." The Sunday Times
"Highly inventive… one of the most exciting, gloriously funny acts out there." Time Out
OMAR HAMDI
@Omar_Hamdi_Com
Fresh from a national tour supporting Russell Kane, various TV appearances, and presenting for Radio 2, Omar Hamdi finally arrives at The Good Ship. A high-energy, affable Welsh-Egyptian comic, Omar makes the personal political and the political personal, with a disarming everyman charm.
"just what the comedy scene has been crying out for……seductive charm and commanding presence; a Welsh-Egyptian funnyman who's going places with a mixture of streetwise observational humour and shrewd passing insights into the confusions of British multiculturalism" Daily Telegraph
"Smashed it like a ceramic plate, every night of the tour." Russell Kane
AND YOUR RESIDENT HOST:
BEN VAN DER VELDE
http://benvandervelde.com/
Consisting of 60% belly button hair and 40% stupid comments about whatever's in front of his nose, Ben has been entertaining crowds nationwide for years and galaxy-wide for centuries, using a contraption that the CIA would bloody love to get their hands on.
"A life-giving compere." Chortle
Amazingly just £5 entry (or £4 in advance online)
Doors 6pm for 8pm start.
Monday 5th October 2015
BRENDON BURNS
https://brendon-burns.squarespace.com/
EDINBURGH COMEDY AWARD WINNER
If we were to use one word to describe Brendon Burns' career it'd be "interesting".
This is not your everyday comic. Older, wiser, calmer (and after being fitted with a hearing aid, infinitely quieter) Brendon's energy is still enticing. His turn of phrase is coarse yet oddly eloquent, whilst remaining fully accessible and intensely loveable. Never pompous and ever self-deprecating he just somehow seems to get away with murder. Not so much an "edgy truth-sayer" but a traditionally harmless and inclusive warm-hearted court jester. His influence is ubiquitous throughout the stand up world. Often replicated but never matched, his shows aren't just extended sets, Burns specialises in creating experiences: forever experimenting with the form and throwing himself new challenges.
Ask around and you'll find every comic on the international scene has a funny Brendon Burns story. A, "They were there the night he…" tale.
Sure he's critically acclaimed, a comic's comic and something of a cult figure. But, above all, he's… well… interesting:/p>
"A comedians' comedian… a perennial mischief-maker." ★★★★ Chortle
"Sure to delight… Burns is in mischievous form." ★★★★ Fest Magazine
"His peers are not other stand ups but more from the literary World. Burns is the William Burroughs and Charles Bukowski of stand up." Guardian
"Not only has he been pushing back the boundaries of taste for years, I'm quite certain he has no idea where they are." Jimmy Carr
CHRIS PURCHASE
https://dailypurch.wordpress.com/
For the best part of the last 5 years, Chris Purchase has earned his living making people laugh, a skill he has been honing his whole life. Since becoming a professional comedian in 2009, Chris has taken his talents all over the country, shared the stage with some of the best comedians in the world at venues like the Comedy Store, the Glee clubs and The Stand and has headlined Boardmasters festival in Cornwall for 4 years. His multiple award-winning talent has gained high praise from critics and comedians alike.
"Top stuff. You were confident, funny and self depreciating." Jack Whitehall
PAUL DUNCAN MCGARRITY
http://paulduncanmcgarrity.co.uk/
Archaeologist by day, comedian (and occasional crime-fighter) by night, Paul is a charming, eloquent and big-hearted storyteller, whose tales of awkwardness at school, on worksites and when eyeball-to-eyeball with a Ugandan rebel leader have left audiences in delighted bit and pieces the nation over.
"Like a very tall, funny, excited child." The Scotsman
"Practically bursting with energy… a hard act to follow." Three Weeks
TAMAR BROADBENT
http://www.mynameistamar.com/
Tamar Broadbent is a comedian and award-winning songwriter. Her song 'Patrick' was featured on BBC Radio 4′s 'Fresh From the Fringe', a showcase of new and exciting comedy acts from the Edinburgh Fringe Festival. Tamar performed her debut comedy show, ALMOST EPIC, at the Underbelly, Edinburgh in 2013. This was followed by a sell-out run at The Leicester Square Theatre in November. Her second show, ALL BY MY SELFIE, was a musical comedy about shame, self-loathing and gin. It previewed in London, Brighton and Lithuania, before having a successful run at the Edinburgh Fringe Festival last year.
Television credits include Zoe in Lee Nelson's Well Funny People (BBC 2013), Bill and Doctors. Recent gigs include the Comedy Cafe, Komedia Brighton, London Zoo Lates, Finger in the Pie Cabaret (Madame Jojos) and the London Cabaret Awards. Tamar gigs regularly as a musical comedian, and is often seen transporting a keyboard across London that is twice the size of her own body.
"Talented, bright and funny. I predict a great future." Michael Palin.
"Lightning fast comedic strokes, side-splitting timing, and an impressive set of pipes." ***** Broadway Baby
AND YOUR RESIDENT HOST:
BEN VAN DER VELDE
http://benvandervelde.com/
Consisting of 60% belly button hair and 40% stupid comments about whatever's in front of his nose, Ben has been entertaining crowds nationwide for years and galaxy-wide for centuries, using a contraption that the CIA would bloody love to get their hands on.
"A life-giving compere." Chortle
Amazingly just £5 entry (or £4 in advance online)
Doors 6pm for 8pm start.
Monday 12th October 2015
ED GAMBLE
http://www.edgamble.co.uk/
Chortle Award winning Ed Gamble is a stand-up comedian, writer and actor. He is currently starring in BBC America's first original comedy commission Almost Royal, a new spoof reality series in which Ed plays Georgie Carlton, 50th in line to the throne. Following its success in the US, the series is now being transmitted on E4.
Ed has provided national tour support for Greg Davies' shows Firing Cheeseballs At A Dog and The Back of My Mum's Head, as well as for Russell Kane and Chris Addison, and was awarded Best Compere at the Chortle Awards 2014.
He has appeared on Russell Howard's Good News, performing as both a solo stand up and alongside Ray Peacock as part of Peacock and Gamble. Ed Gamble and Ray Peacock are the only acts to make a return appearance on the show. He has also performed on Dave's One Night Stand, Virtually Famous and Sweat the Small Stuff, and has written for Never Mind The Buzzcocks, Mock The Week and Ask Rhod Gilbert, among others.
For five years Ed was co-writer and host of the iTunes topping and Chortle Award nominated Peacock and Gamble Podcast. Together, Peacock & Gamble present programmes for BBC Radio 4 Extra's The Comedy Club and starred in Warm Up for BBC Comedy Online. Ed currently co-hosts two shows for Fubar Radio: Peacock & Gamble with Ray Peacock, and The Rock Show with Joel Dommett.
"An ability to open his mouth and spontaneously say something hysterically funny." The Guardian
"Moments of stupendous invention." List
ASH FRITH
@AshFrith
Ash Frith started gigging in 2011 and has enjoyed performing with some of the best acts on the UK comedy circuit ever since. Ash enjoyed a great 2013 providing support for Russell Kane and Terry Alderton on theatre dates. Ash Performed in the West End Show "Cornucopia" the extravaganza hosted by The Boy With Tape on His Face, and was resident MC for a month of shows at London's Outside the Box comedy club performing with huge names from the UK circuit including Omid Djalili, Andrew Lawrence and Jarred Christmas.
STEPHEN BAILEY
http://www.stephenbaileycomedy.co.uk/
Stephen Bailey, is making noise on the comedy circuit by being fun, charming and sassy. A skilled improviser, Stephen is "annoyingly sharp" (The New Current) and is known for mixing up his material covering everything from celeb antics, to his relationships with and even adds some local flavour – all done with "fantastic natural wit and charisma" (Edinburgh Festivals Magazine). His infamous gossips are "warm and affectionate yet no less biting in its wit" (The Gay UK), which made him perfect choice to be first ever MC at Stonewall's Summer Party (having the distinct pleasure to not only host the night but introduce the phenomenal Beverley Knight.)
"Refreshing to watch, a comic who is so beautifully comfortable in his self that the show he has created is rich with positivity." The New Current
"Stephen Bailey dominates the stage." Chortle
MARIA SHEHATA
http://www.mariashehata.com/
An Egyptian-American comedian, born and raised in Columbus, Ohio, Maria Shehata has traveled the globe charming audiences with her unlikely blend of Mid-east and American Mid-west perspectives.
Maria's stand up has been featured on Comedy Central's "The Watch List," Showtime's "Bridging the Gap," and Nuvo TV's "Stand Up and Deliver," as well as the critically acclaimed films "Just Like Us" and the "The Cradle of Comedy." Most recently, she has won Best Comedian at the Hollywood Festival of New Cinema, and her web series "My Super-Overactive Imagination" won Best Comedy at the Miami Web Fest, where she was also nominated for Best Actress.
"Maria Shehata has a Janeane Garafalo type swagger to her, both funny and entertaining." LA Times
"Maria is my favorite little Egyptian." Jim Gaffigan
AND YOUR RESIDENT HOST:
BEN VAN DER VELDE
http://benvandervelde.com/
Consisting of 60% belly button hair and 40% stupid comments about whatever's in front of his nose, Ben has been entertaining crowds nationwide for years and galaxy-wide for centuries, using a contraption that the CIA would bloody love to get their hands on.
"A life-giving compere." Chortle
Amazingly just £5 entry (or £4 in advance online)
Doors 6pm for 8pm start.
Monday 19th October 2015
PIPPA EVANS
http://www.pippaevans.com/
Pippa Evans is an award-winning comedian, actress, songwriter and improviser.
A multi-talented and incredibly versatile performer, Pippa has taken 5 shows to the Edinburgh Fringe, bagging a nomination for Best Newcomer in 2008 for debut show Pippa Evans and Other Lonely People. Since then she has gone from strength to strength, performing regularly on BBC Radio 4 institution The Now Show as well as making guest appearances on hit TV shows such as Dave's Alan Davies: As Yet Untitled and Comedy Central's Drunk History. She has also featured on BBC3's sketch comedy show Live At The Electric and was one of the regular cast members on BBC2's comedy impro series Fast and Loose.
Following her Edinburgh Comedy Award nomination in 2008, 2010 saw Pippa unleash her alter-ego Loretta Maine, a sexy and psychotic American country and western singer-songwriter, for a full show of her own, Loretta Maine: I'm Not Drunk I Just Need To Talk To You. In 2012 Pippa took Loretta Maine: Bipolar to the Fringe, garnering a slew of 4 and 5 star reviews and playing to packed houses throughout the festival month. The show was also invited to the Soho Theatre in London for a five night run in Spring 2013, before Pippa jetted off to Australia to make her debut at the Melbourne Comedy Festival.
Pippa returned to the Fringe in 2014 with two new shows. She performed Loretta Maine: Strong Independent Woman (Unless I Am Very Tired), which was nominated for the Amused Moose Laughter Award, and also starred in Pippa Evans: Don't Worry, I Don't Know Who I Am Either on the Free Fringe. Both were brilliantly received by critics and audiences alike. She returned to the Fringe this year as herself with There Are No Guilty Pleasures, shortly after making her debut at the prestigious Just For Laughs Comedy Festival in Montreal in July.
Pippa is also a core member of The Showstoppers, the multi-award-winning group who improvise a new musical based on audience suggestions. Pippa has performed with The Showstoppers across the UK and the world, including West End residencies and a six part series for Radio 4. Pippa frequently guests at different improv nights across London and is a semi-regular cast member of The Comedy Store Players.
Pippa is co-founder of the Sunday Assembly, a monthly gathering that promotes community and learning in a non-religious environment. Having started with just one congregation in London, it is now a global movement and has been featured in The Guardian, The New York Times and on the BBC.
"Murderously funny." Evening Standard
"Fabulously talented." Time Out
"What makes Pippa Evans stand out is the shockingly funny and abrasive edge to her writing. Beautifully written, viciously barbed lines. Evans's ability to create compelling comedy out of disturbing emotions means the attention she's getting is very much deserved." Guardian
MATT REES
@themattrees
Multi-award winning comedian and Chortle Best Newcomer nominee 2012 Matt Rees has generated a huge buzz on the circuit over the past couple of years with his unique brand of well-crafted gags and acerbic delivery earning him high praise from audiences and critics alike. The young Welshman supported the sublime Elis James on tour and formed part of the prestigious Pleasance Reserve at the Edinburgh Fringe 2012.
"A properly original comedy mind." Guardian
"A gem in the form of a laconic youngster with an instinctive comedic talent." Metro
JOE FOSTER
@mrjoefoster
TOM WARD
http://www.tomwardvoice.com/comedy/
A finalist in a many of the most prestigious new act competitions, Thomas is increasingly on the radar of promoters and punters alike for his unique style. You will find him in London and the British beyond taking you sideways, on his search for meaning, through the familiar worlds of carpet adverts, supermarkets, impersonations and tales of teenage love. Thomas was also a finalist in last year's BBC New Comedian of the Year Award.
"Fine writing, evoking silly images and ideas, combines with a distinctive look and a deliberate, well-spoken delivery to make him memorable." Chortle
"Inventive stand-up Thomas Ward; a spaced-out, sometimes poetic comic with a terrifying fringe, and a very funny take on the world." The Stage
ROZ RYAN
@rozryan
Roz Ryan is a Brighton-based comic, who often ventures out from behind the Hummus Curtain/The South Downs to tell audiences her "comic personal tales peppered with astute and cynical observations on life" (Guide2Brighton). She recently reached the semi-finals of Funny Women, and was awarded runner-up in the Fosters South Coast Comedian competition last year.
She performed her first Brighton Fringe show, Pigs in Gin, this year – along with a friend and various special guests – and then took the show to Edinburgh Fringe in August to rapturous indifference. Roz loves a gin and tonic, Monster Munch crisps and her other half – but not for the reasons you might think…
"Polished delivery, charming persona and well honed gags." Latest7
AND YOUR RESIDENT HOST:
BEN VAN DER VELDE
http://benvandervelde.com/
Consisting of 60% belly button hair and 40% stupid comments about whatever's in front of his nose, Ben has been entertaining crowds nationwide for years and galaxy-wide for centuries, using a contraption that the CIA would bloody love to get their hands on.
"A life-giving compere." Chortle
Amazingly just £5 entry (or £4 in advance online)
Doors 6pm for 8pm start.
Monday 26th October 2015
SCOTT CAPURRO
http://www.scottcapurro.com/
This week's headliner is a full-on, gold-plated, acid-tongued comedy legend in the form of SCOTT CAPURRO. There's is virtually nothing Scott hasn't done, whether it's win the prestigious Perrier Award in 1994, headline every club worth it's salt around the globe or star in "Mrs.Doubtfire" with Robin Williams. His act is brutal and any prisoners it does take are mercilessly mocked and left for dead. You will absolutely laugh until you're broken.
"There are some topics which just aren't suitable for comedy. Luckily for us Scott hasn't worked out which ones they are yet. He's filthy, camp and utterly fearless. There's also a huge amount of heart and intelligence at work in this show if you really listen carefully to what he's actually saying." Time Out
"Yet accept the ferocious, corrosive material in the provocative spirit it's intended, and it is brilliantly, shockingly funny. So far beyond the pale that the only reaction IS to laugh, partly out of discomfort, partly out of the sheer audacity of it all." Chortle *****
INGRID DAHLE
@iamingriddahle
Ingrid moved to the UK from Norway in 2002. She performed her first comedy gig in July 2011 and 30 gigs later won a coveted place in the final of the prestigious So You Think You're Funny competition at the Gilded Balloon. Her set at the final was selected to appear on the Culture Show's coverage of the Edinburgh Festival for BBC2.
In October 2012 Ingrid also competed in the final of the inaugural Squawker Awards at the Brighton Comedy Festival. She delivered a blistering set during the fiercely contested competition and was deservedly announced the Winner. The winner's prize included a spot at the Best of the Fest show at the Brighton Dome. Despite her newcomer status, Ingrid's confident performance received rapturous applause from the 1400 strong crowd.
"Always quirky, an engaging oddball with innate funny-bones." Chortle
JOHN HASTINGS
http://www.johnhastingscomedy.com/
A regular Good Ship favourite, John has been performing standup since 2006.He has won the Montreal Comedy Festival Home-grown Comedy Competition, has been called "one to watch" by the Comedy Network and was the only Canadian Finalist of the 2011 San Francisco Comedy Competition. In 2012 John moved to London England which gave him the opportunity to be featured on BBC radio 4, BBC.com as a comedy correspondent and be selected to appear in the Comedy Reserve Showcase at the Edinburgh Comedy Festival in 2013. He was also nominated twice for a Canadian Comedy Award.
Since then he has been going from strength to strength entertaining audiences across the country engaging them with his sharp punchlines delivered through his observational storytelling style.
"A strong calling card from a thoughtful and observant comic with enjoyably wry sensibilities…we're in the hands of an appealing consummate pro." Chortle
AND YOUR RESIDENT HOST:
BEN VAN DER VELDE
http://benvandervelde.com/
Consisting of 60% belly button hair and 40% stupid comments about whatever's in front of his nose, Ben has been entertaining crowds nationwide for years and galaxy-wide for centuries, using a contraption that the CIA would bloody love to get their hands on.
"A life-giving compere." Chortle
Amazingly just £5 entry (or £4 in advance online)
Doors 6pm for 8pm start.
HISTORY & INFORMATION The award winning The Good Ship Comedy Club is set in the heart of Kilburn. It's not only become the go-to venue for comedy for the locals of Kilburn, Queens Park, Maida Vale, Willesden and Cricklewood but its amazing line ups also draw in the crowds from much further afield as audiences come to see some of the top national and international acts the comedy circuit has to offer.
  From hot new 'up and comers' to the familiar faces of the televisions biggest comedy shows The Good Ship Comedy Club has seen the who's who of comedy come and play this wonderful north west London venue. Special guest have previously included Omid Djalili, Reg D Hunter, Richard Herring, Josie Long, Simon Munnery, Stewart Lee and many many more!
2008……
A&B Aaron Counter Adam Bloom Adam Tempest Alfie Brown Amadeus Martin Andi Osho Andrew Lawrence Andrew O'Neill Andrew Watts Andy Zaltzman Asli Akbay Ben Van Der Velde Benny Boot Brett Goldstein Broderick Chow Carl Donnelly Charlie Baker Chris Martin Chris Mayo Christina Martin Claire Stroud Colin Owen Craig Campbell Dan Antopolski Dan Evans Dan Thompson Darshan Sanghrajka David Meech David Whitney Del Strain Dizzy Bryan Donald Mack Duncan Bolt Dylan Bray Erich McElroy Gareth Beliner Gary Colman Gary Delaney Gerry Howell Grainne Maguire Hal Cruttenden Hannah Dunleavy Helen Arney Henning Wehn Hils Barker Holly Burn Holly Walsh Iain Lee Ian Cognito Ilan Elson Schwab Imran Yusef James Mullinger James Sherwood Jane Bostock Jane Hill Janey Godley Jarred Christmas Jason John Whitehead Jason Rouse Jessica Fostekew Jim Grant Jimmy McGhie Jo Caufield Jo Romero Jody Kamali Joe Bor Joe Wilkinson Joey Page Jon Richardson Jonathan Elston Josh Howie Juliet Meyers Kate Smurthwaite Kevin Precious Kevin Shepherd Lee 'Nelsy' Nelson Lewis Shaeffer Lou Sanders Lucy Porter Luke Toulson Mark Allen Mark Restuccia Martin Davies Matt Crosby Matt Green Matt Kirshen Matthew Earley Matthew Osbourne Maureen Younger Meryl O'Rourke Michael Fabbri Michael Legge Mike Belgrave Mike Manera Mike O'Donovan Milton Jones Nat Luurtsema Nathan Caton Nick Cowen Nick Doody Nick Page Nick Pettigrew Norman Lovett Paddy Lennox Pat Burtscher Patrick Monahan Paul F Taylor Paul Harry Alan Paul Ricketts Paul T Eyres Pippa Evans Prince Abdi Rachel Anderson Reginald D Hunter Richard Coughlan Richard Herring Richard Sandler Rob Coleman Rob Deering Robin Ince Roddy Fraser Ronnie Rigsby Rosie Wilby Ross Ashcroft Sajeela Kershi Sara Pascoe Scott Capurro Shazia Mirza Simon Fielder Simon Munnery Sion James Sol Bernstein Stephen Carlin Stephen Merchant Steve Day Steve Hall Steve Parry Steve Weiner Stewart Lee Stuart McCure Sully O'Sullivan Suzy Bennett Terry Saunders Terry The Odd Job Man The Dog Eared Collective Tiernan Douieb Tiffany Stevenson Tom Goodliffe Tom Wrigglesworth Tomi Walamies Tommy Mack Tony Cowards Tony Law Trevor Lock Wez Zaharuk Will Hodgson Wilson DixonZoe Lyons
2009…..
Aaron Counter Adam Bloom Adam Tempest Al Pitcher Albion Gray Alex Maple Alyssa Kyria Amy Button Andrew Lawrence Andrew Stanley Andrew Wallace Ava Vidal Ben Norris Benny Boot Bob Mills Bobby Slayer Brendon Burns Brett Goldstein Brett Sharpe Brian Gittins Broderick Chow Broken Biscuits Cardinal Burns Carl Donnelly Catie Wilkins Chris Addison Chris Martin Chris Mayo Chris Molineux Christian Lee Craig Murray Crispin Flintoff Daniel Hoy Daniel Rigby Danielle Ward Darren Ruddell Dave Thompson David Meech David Mulholland David Whitney Del Strain Doc Brown Eric Lampaert Fergus Craig Gary Coleman George Ryegold Gerry Howell Grainne McGuire Helen Arney Henning Wehn Henry Ginsberg Henry Paker Hils Barker Holly Burn Holly Walsh Howard Read Ian Cognito Ian Stone Imran Yusuf Inder Mancoha Isy Suttie Jack Whitehall James Acaster James Kettle James Mullinger Jane Hill Janice Phayre Jessica Fostekew Jim Grant Joanna Neary Joanne Lau Joe Bor Joe Lycett Joe Rowntree Joe Wilkinson John Gordillo John Kearns Joleed Farah Jon Brittain Jon Kudlick Jon Richardson Josh Howie Josh Widdicombe Josie Long Julian Dean Juliet Meyers Kevin Dewsbury Lee 'Nelsy' Nelson Lenny Beige Lenny Peters Liam Mullone Liz Carr Luke Benson Luke McQueen Luke Roberts Luke Stephen Luke Toulson Maff Brown Magnus Betner Mark Dandy Mark Restuccia Martin Davies Matt Green Matt Kirshen Matt Rudge Matthew Crosby Meryl O'Rourke Mike O Donovan Mike Wilmot Milton Jones Miriam Elia Moonfish Rhumba Nathaniel Metcalfe Nick Helm Nick Rado Papa CJ Pappy's Fun Club Pat Burtscher Pat Monahan Paul Foot Paul Harry Allen Paul McCaffrey Paul T Eyres Pete Firman Phil Kay Phil Nichol Pippa Evans Prince Abdi Quincy Rachel Stubbings Reg D Hunter Richard Herring Richard Sandling Rob Coleman Rob Deering Rob Rouse Robert White Robin Ince Roddy Fraser Roland Gent Rowena Hayley Ryan McDonnell Sajeela Kershi Sanderson Jones Sara Pascoe Scott Capurro Seann Walsh Shappi Khorsandi Shazia Mirza Simon Donald Simon Munnery Stuart Black Stuart McCure Stuckey and Muray Susan Murray Tania Edwards The Roaring Boys Tim Clark Tom Basden Tom Goodliffe Tom Rosenthal Tommy Campbell Tony Law Trevor Lock Vikki Stone Wes Zaharuk Wouter Meijs Yari Perelmuter Zoe Lyons
2010…..
Abandoman Adam Bloom Adam Tempest Addy Van De Borgh Adeel Amini Al Pitcher Alex Maple Alex Mariony Alex Perry Alexsis Dubus Andrew Doyle Andrew Lawrence Andrew O'Neil Ashley Frieze Ava Vidal Bobby Carroll Broderick Chow Bryan Lacey Bryan Walsh Carey Marx Carl Donnelly Catie Wilkins Celia Paquola Chris Mayo Chris Norton Walker Chris Stokes Christian Manley Christian Reilly Chuquai Billy Claire Stroud Colin Owens Damian Kingsley Damion Larkin Dan Antopolski Dan Louw Dan Wright Daniel Rigby Daniel Smith Danny Hurst Danny Steele Darrin Rose Darshan Sanghrajka Dave Twentyman David Baker David Bibby David Whitney Del Strain Diane Morgan Doc Brown Dougie Dunlop Ed O'Meara Edward Aczel Eric Lampaert Erich McElroy Gareth Morinan George Ryegold Gerry Howell Gordon Southern Hannah Warman Henning When Henry Ginsberg Hils Barker Holly Burnk Holly Walsh Ian Stone Imran Yusuf Ione Harding Isy Suttie Iszi Lawrence James Sherwood James W Smith Jamie Glassman Jen Brister Jessica Fostekew Joe Bor Joe Rowntree John Kearns Johnny Armstrong Jonathan Elston Josh Howie Josie Long Julian Deane Kate Smurthwaite Keith Platt Kishore Nayar Lenny Peters Liam Mullone Liam Speirs Lindsay Sharman Liz Carr Loretta Maine Lou Sanders Luke Graves Luke Stephen Magnus Betner Marcel Lucont Mark Restuccia Mark Simmons Martin Hill Matt Green Matt Hatdock Michael Mooney Mickey Anderson Mike Manera Mike O Donovan Mike Wozniak Milton Jones Naz Ozmanoglu Neil Cole Neil McFarlane Nick Helm Nick Revell Ninia Benjamin Nishant Kumar Nobbo Johnson Patrick Monohan Paul Harry Allen Paul Ricketts Paul Sinha Paul T Eyres Pete Teckman Peter Firman Phil Nichol Philberto Pippa Evans Rayguns are Real Enough Rhys Jones Ro Campbell Rob Deering Roland Gent Rosie Wilby Sanderson Jones Scott Capurro Shazia Mirza Simon Feilder Simon Munnery Stephen Grant Steve Hall Susan Murray Suzi Ruffell Sy Thomas Taff Khaliq Tania Edwards Toby Muresianu Tom Allen Tom Rosenthal Tommy Etlling Tony Law Trevor Lock Luke Benson Wes Zaharuk William Andrews Yariv Perelmuter Zoe Lyons
2011…..
Abandoman Adam Buxton Adrian Poynton Alex Maple Alex Marion Alfie Brown Andi Osho Andrew Bird Andrew Lawrence Arnab Chanda Asher Treleaven Ben Crellin Ben Target Benny Boot Bethany Black Bobby Carroll Bobby Mair Brett Goldstein Bridget Christie Bryan Walsh Carey Marx Carly Smallman Chris Martin Dan And Dan Dan Antopolski Dane Baptiste Daniel Smith Danielle Ward Darrin Rose Darshan Sanghrajka Dave Hill David Mills David Shore David Whitney Dylan Bray Eddie Kadi Ellie Taylor Elliott Tiney Fredrick Andersson Gareth Morinan Gary Tro Gavin Inskip Gordon Southern Grainne Maguire Hannah Warman Helen Arney Henry Ginsberg Holly Burn Holly Walsh Horse and Louis Ian Smith Imran Yusuf Inder Manocha Inel Tomlinson Iona Dudley-Ward James Acaster James W Smith Javier Jarquin Jay Cowle Jay Foreman Jen Brister Jess Fostekew Jigsaw Joe Bor Joe Wells Joe Wilkinson Joel Dommett Jonny Awsum Joseph Wilson Josh Howie Josh Widdicombe Josie Long Julia Clark Juliet Meyers Kelly Kingham Kishore Nayar Lateef Lovejoy Laura Carr Lou Sanders Lucy Porter Luke Benson Luke Graves Mae Martin Marcel Lucont Mark Restuccia Mark Stephenson Markus Birman Martin Croser Matt Green Matt Richardson Matthew Crosby Matthew Highton Max Dickens Meryl O'Rourke Michael Fabbri Miles Lloyd Milton Jones Mitch Benn Mr. Cee Nathan Cassidy Nick Helm Nick Sun Ninia Benjamin Nishant Kumar Pappy's Pat Burtscher Paul Harry Allen Paul Ricketts Paul Sinha Paul Sweeney Pete Firman Peter Buckley Hill Phil O'Shea Phil Wang Rayguns Look Real Enough Rhys Jones Rob Deering Robert White Rosie Wilby Sal Stevens Scott Capurro Simon Feilder Steve Aruni & Henry the Hoover Steve Day Steve Furst Stuart Goldsmith Suzi Ruffell Tez Ilyas The Beta Males Tiernan Douieb Toby Muresianu Toju Dagreat Tom Allen Tom Craine Tom Goodliffe Tom Toal Tom Webb Tommy Ettling Tommy Rowson Tony Law Trevor Lock Vahid Jahangard
2012…….
Aatif Nawaz Abandoman Adam Bloom Adam Hess Aidan Goatley Alex Holland Alex Maple Alfie Brown Alistair Barrie Andrea Hubert Andrew Doyle Andrew Lawrence Andrew O'Neill Andrew Watts Andy Davies Andy Zaltzman Angela Barnes Asher Treleaven Ava Vidal Barnaby Slater Bec Hill Ben Target Brett Goldstein Bryan Walsh Bush McCluskey Carey MarxCariad Lloyd Carly Smallman Celia Pacquola Chris Coltrane Dan and Dan Dan Antopolski Dana Alexander Dane Baptiste Danny Ward Darius Davies David Mills David Whitney Doc Brown Ed Aczel Elis James Ellie Taylor Elliot Tiney Eric Lampaert Gareth Morinan Gary Tro Gerry Howell Giada Garofalo Grainne Maguire Cruttenden Helen Arney Imran Yusuf Inel Tomlinson Iszi Lawrence James Acaster James Mullinger James Redmond James W Smith Javier Jarquin Jay Foreman Jessica Fostekew Joe Bor Joe Lycett Joel Dommett John Hastings John-Luke Roberts Jonny Awsum Johnny and the Baptists Josh Howie Joe Lycett Juliet Meyers Katerina Vrana Katie Mulgrew Kishore Nayar Lateef Lovejoy Lenny Peters Lloyd Griffiths Lucy Porter Luisa Omielan Luke Benson Luke Stephen Mae Martin Marc Burrows Marcel Lucont Marcus Brigstocke Mark Restuccia Mark Smith Marlon Davis Martin Croser Matt Forde Matt Green
2013……
Abandoman Andy Zaltzman Aidan Goatley Andi Osho Andrea Hubert Archie Maddocks Barry Castagnola Bobby Mair Ben Van Der Velde Benny Boot Bob Mills Brian Gittins Bryan Lacey Carey Marx Chris Martin Chris Turner Dane Baptiste Darren Walsh David Jesudason Elliot Steel Fin Taylor Funmbi Omotayo Harriet Kemsley Hal Cruttenden Iain Stirling Ian Stone Isy Suttie Ivo Graham Jack Barry Jack Rooke Jack Samuel Warner Jarred Christmas Jim Tavare Jo Caulfield Joe Bor Joe Rowntree Joe Wells John Hastings John Thomson Jonny & The Baptists Josh Widdecombe Juliet Stephens Katie Mulgrew Keith Farnan Kwame Asante Larry Dean Liam Speirs Lucy Frederick Lucy Porter Luke Graves Mark Restuccia Matt Forde Matt Rees Matt Richardson Mike Wozniak Milo McCabe Mitch Benn Moataz Hamdi Nathan Caton Neil McFarlane Nick Helm Patrick Monahan Patrick Morris Paul Tonkinson Norman Lovett Paul Chowdry Paul F Taylor Paul Thorne Pete Firman Philip Simon Pierre Novellie Piff The Magic Dragon Ria Lina Rhys James Rob Deering Robert White Romesh Ranganathan Rosie Wilby Sam Savage Sam Wong Sara Pascoe Sean McLoughlin Simon Munnery Simon Donald Sol Bernstein Sopie Hagen Stephen Carlin Terry Alderton Tom Davis Tom Deacon Tom Hayward Tom Toal Tom Wrigglesworth Tony Law Vikki Stone Zoe Lyons
2014……
Jim Campbell Holly Walsh David Jesudason Darren Walsh Ed Aczel Matthew Highton Amy Howerska Abandoman Andrew O'Neill Nish Kumar Allyson J Smith Evelyn Mok Chris Coltrane Marcel Lucont Andrea Hubert Amir Khoshokhan The Storybeast Zoe Lyons, Paul F Taylor Sofie Hagen Tez Ilyas Keith Farnan Tom Toal Lee Nelson Olaf Falafel Sir Ian Bowler Joel Dommet Inel Tomlinson Ava Vidal Archie Maddocks Hill & Wheedon Harriet Kemsley Gary Tro Dave Green Ed Gamble Daniel Simonsen Lindsay Sharman Stu Richards Stuart Goldsmith Paul Duncan McGarrity Mat Ewins Derek Ryan Matthew Crosby Andy Zaltzman Angela Barnes James Brann Rob Heeney Mike Wozniak Damian Clark Alfie Brown Ingrid Dahle Richard Todd Chris Martin Tom Deacon Aisling Bea Stella Graham Barry Ferns Ian Stirling Tom Allen Tim Renkow Will Duggan Jimmy Bird Ivo Graham Luke Benson Paul Mcaffrey David Mills Scott Capurro Bec Hill Tommy Rowson Alex Smith Lee Nelson Celia Pacquola Pete Otway Brennan Reece Mark Silcox Richard Soames Hal Cruttenden Matt Rees Ean Luckhurst Adam Rushton John Hastings Pete Johansson Paul McMullan Kishore Nayar Andrew Bird Max Dickens Edd Hedges Mae Martin David Morgan Eleanor Curry Phillip Simon Al Lubel Marcus Olaire Ash Frith Ryan Cull Yacine Bellhouse Tom Rosenthal Garret Millerick Ellie Jane Taylor Jake Lambert Adam Blampied Pierre Novellie Sean McLoughlin Tony Law Jarlath Regan Katie Mulgrew Bobby Mair Josh Howie Alex Edelman Lucy Porter Fin Taylor Stephen Carlin Loretta Maine Peter Brush Sara Pascoe Danny Bhoy Damian Kingsley Carl Donnelly Pat Cahill Jared Christmas Laura Lexx Mark Cram Gary Tro Tony Cowards Tiernan Douieb Joshua Ross Robin Morgan Peter White Sarah Iles Tony Marrese Matt Richardson Juliet Myers Chris Purchase Katherine Ryan Adam Hess Dan Schreiber Johnny Cochrane Romesh Ranganathan Allyson June Smith Fern Brady Alistair Beckett-King Phil Ellis Jonny Pelham Phil Jerrod Richard Sandling John Robins Tony Jameson Tommy Tiernan Elliot Steel Ray Peacock Kiri Pritchard-McClean Alex Perry Toby Hadoke Harriet Dyer Luke Graves Ari Shaffir Jonny Lennard Jessica Fostekew Chris Betts Jamali Maddix Russell Kane Simon Munnery Max Davis Sarah Callaghan Nathan Caton Suzi Ruffell Paul Jones Evelyn Mok Tiffany Stevenson Robert White Caroline Mabey Aidan Goatley Brett Goldstein Masud Milas Mark Smith Joe Lycett Diane Spencer Tom Hayward Milo McCabe Felicity Ward Tez Ilyas Steven Scott Stephanie Laing Chris Stokes Foil Arms & Hog Rory O'Hanlon Don Tran Tom Goodliffe